[set_id=72157636602222884]
After weeks of competing on the road, Gator cross-country teams hit home terrain to dominate most of the competition at the SF State Invitational last Friday. They came in second overall in the 15-team meet at Golden Gate Park's Speedway Meadows.
Among the teams racing were several top-seeded California Collegiate Athletic Association opponents like Humboldt State and Cal State Stanislaus, who won the men's and women's races respectively.
"It was another tight battle with Humboldt State (on the men's side)," said head coach Tom Lyons. "They got out quicker than us, but our guys closed over the second half of the race. The women's race was fantastic. It was good to have (Zuleima Jimenez) back and a lot of the other girls ran their best times."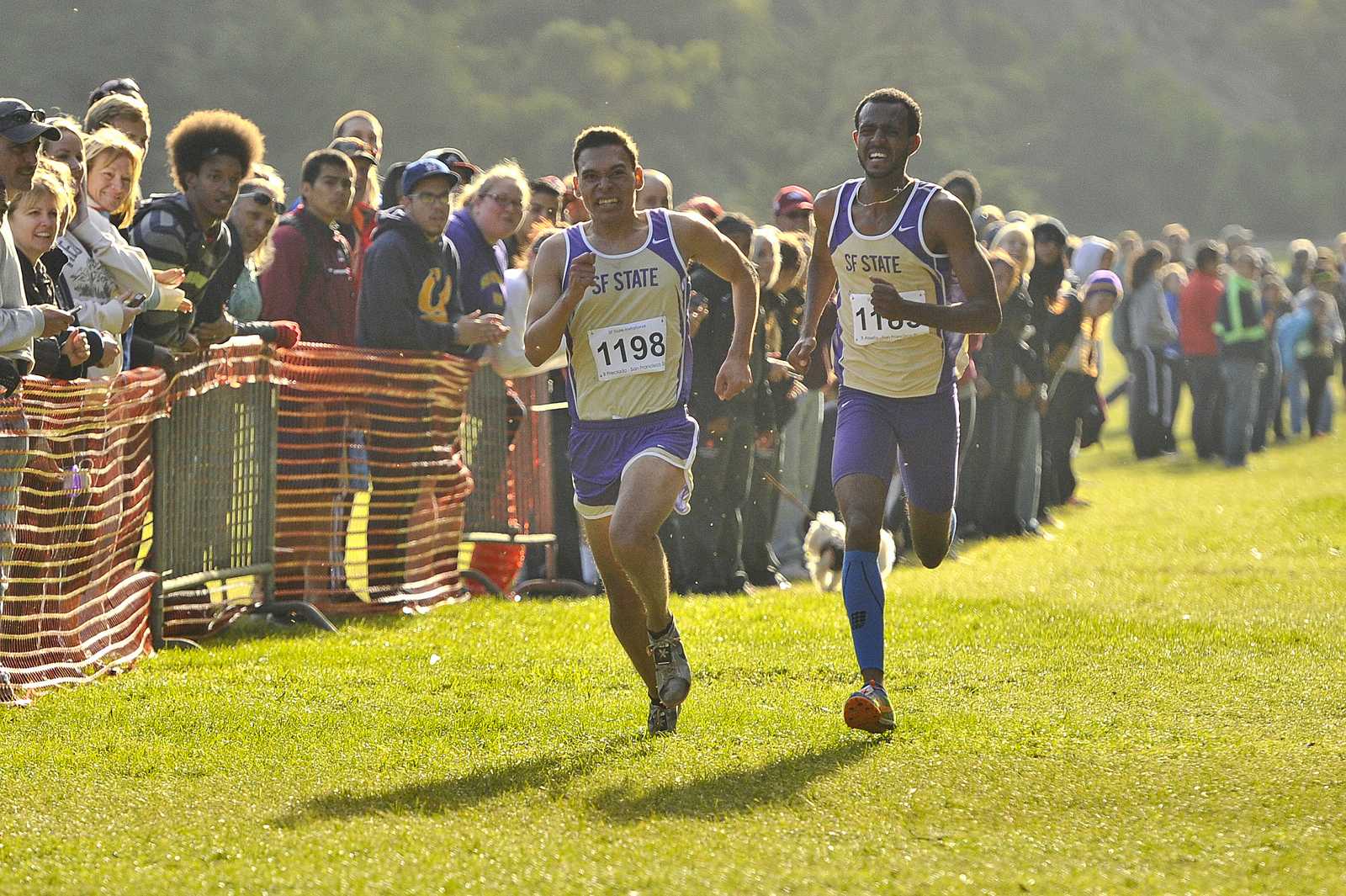 Jimenez, a senior, was out due to a plantar fascia injury for the first half of the season and was unable to race until the meet last Friday. However, she made the most of her comeback, distancing herself from the pack early and finishing second overall with a time of 21:37.1. She came close to overtaking first place finisher, Courtney Anderson, a runner with no team affiliation, who bested her by five seconds.
"I think (the race) went really well," Jimenez said. "I was really excited coming back from an injury. Realistically, I wasn't expecting too much. I just wanted to stay up in the front and hold on as much as I could, and it worked."
Jimenez's teammate, Paxton Cota, rounded out the top five finishers for the women, clocking a time of 22:27.4.
In the men's race, SF State runners Bruk Assefa and Benji Preciado engaged in a tight contest with three of Humboldt State's runners and a lone runner from San Diego Mesa College from start to finish. Both Gators were able to finish in the top ten: Preciado placed sixth overall with a time of 25:32.5, and Assefa was right on his heels at 25:32.9. The San Diego Mesa runner, Steven Martinez, finished first with a 25:01.3 time.
"It was a tough race, but as a team we did really well," Assefa said. "It would have been nice to win the last home meet, but things don't always go as planned. It's still early in the season and we'll see how we do at (CCAA) conference."
The Gators had a brief ceremony after the invitational for the teams' graduating seniors Bruk Assefa, Ryan Chio, Ryan Woods and Will Zentmyer, on the men's side; and Kaylie Belk, Zuleima Bernal, Rebecca Nunez, Becky Park, and Alica Trujillo, on the women's. The ceremony, which included posters of the athletes and recollection of their personal achievements, was bittersweet for some.
"It's really hard," Assefa said. "I feel emotional just talking about it. But, you know, life goes on."
The season is far from over for SF State cross-country. With CCAA Championships two weeks away and nationals further down the road, the Gators will use next week as an opportunity to rest up  before the crucial part of their season. The team plans to forego their next scheduled meet,  the Santa Clara Invitational on Oct. 19, to focus on practice.
"We're not going to race until conference, unless somebody needs a race," Lyons said. "Otherwise, we're just going to get ready, and actually, we're really still a couple weeks away from what we really want to do well in, which is regionals and nationals."