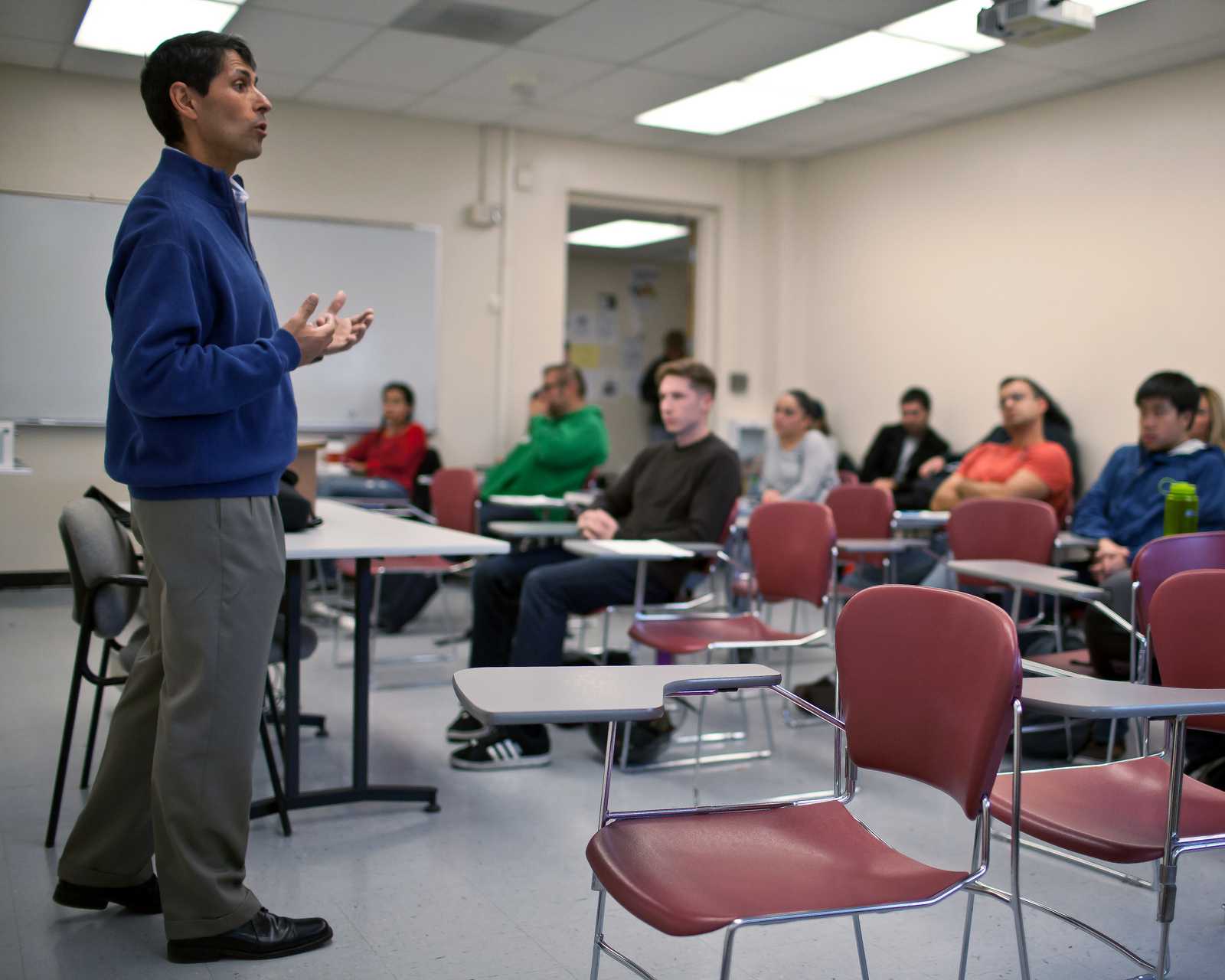 [soundcloud url="https://api.soundcloud.com/tracks/121006587″ params="color=ff6600&auto_play=false&show_artwork=true" width="100%" height="166″ iframe="true" /]
From cocaine trafficking to prison to teaching, Michael Santos, a newly hired criminal justice lecturer, offers SF State students an insider's perspective on the prison system through his class, The Architecture of Incarceration.
This class examines the country's prisons, the people inside, the way they are treated and the justice system that has put them there. After living inside the system for more than two decades, Santos brings students an understanding of prison life.
Students enrolled in the class this semester received an email with the syllabus and an explanation of their teacher's federal prison history. Some of them said they at first felt skeptical about having an ex-convict as a teacher, but had changed minds once they met him.
"Professor Santos is a living example of how an individual can be successful after serving so much time in prison," said Danella Hughes, criminal justice major enrolled in Santos's class. "I feel like his journey is unique and the knowledge that he has gained brings a special element to his teaching."
Arrested in 1987, Santos was sentenced to a 45-year prison term for shipping cocaine from Miami to North Seattle.
"I had a kind of untraditional introduction to the university life," said Santos, who spent 26 years locked up in federal prison and was released early in August.
Santos developed a three-pronged plan for turning his life around when inspiration struck him during the early stages of his incarceration.
"It wasn't until I was convicted and facing a sentence of life without the possibility of parole that I recognized I had better make some changes in my life. I started to look for guidance someplace. I found it in a philosophy book," he said.
Below a flight of stairs in the first jail he was housed in, Santos stumbled upon a philosophy book that told the story of Socrates who faced his death sentence and imprisonment without fear.
After reading the story, Santos determined that he would educate himself, find ways to contribute to society, and build a support network. This approach carried Santos through 9,500 days in prison and into his new career as a speaker, writer and teacher.
While in prison, he earned two degrees: an undergraduate degree from Mercer University in 1992 and a master's degree from Hofstra University in 1995, but prison officials wouldn't allow him to earn a PhD.
"The warden declared that I'd had enough studying and that prisons were not universities," Santos said.
Santos was told that his continuing education was a threat to the security of the institution, and he was blocked from completing the PhD program. This inspired the message that he shares today — the system needs to change.
"His experiences, his incarceration, and his desire to help reform the penal system and help other former inmates reintegrate all make him a unique lecturer," said Jeffrey Snipes, chair of the criminal justice department.
During their first meeting, Snipes offered Santos a position teaching the class, architecture of incarceration, and told him to "make it his own."
Santos describes his teaching approach as unconventional. He assigned two books that he wrote while in prison.
He said these books give students a clear picture of what life in a highly structured and rules-based climate is like. He adds they're not just theoretical; they're documented experiences.
Santos hopes this personal, documented experience will help inspire students to change the country's prison system.
Teaching at SF State every Thursday and sharing his message is the highlight of his week, Santos said.
He arrives to campus hours before his class just to enjoy being on the University campus, surrounded by what he describes as a vibrant, tolerant and liberal community.
"I'm just trying to relive the decades that I lost in confinement," he said. "I love this campus."