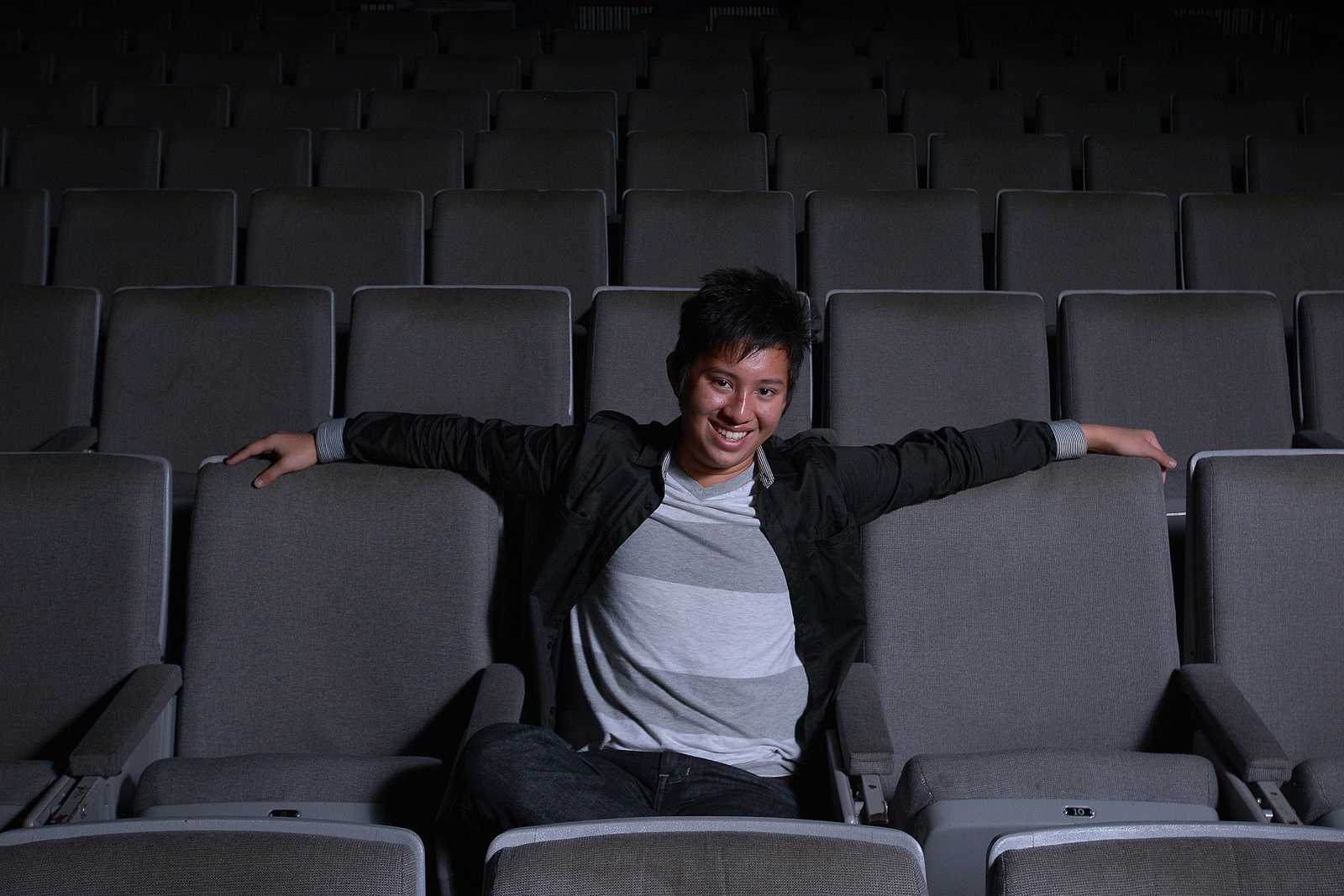 Student director Andrew Wong doesn't just stand out for winning Best Picture for his film at Campus MovieFest, but for his reaction.
"Once they announced it was me, I stood up and I screamed," Wong, a 19-year-old cinema major, said. "My heart was pounding so hard I was certain my friend could actually hear it, and my legs were jelly, and I'm just trying to form words and I don't even remember what I said really."
More than 90 teams signed up for CMF and about 70 films were submitted in total for the competition. Only the top 16 films were screened Thursday, Oct. 17 including his, "Speeding Ticket." Wong said the wait to hear the judges announce the winners seemed like an eternity. This was the second time he competed in CMF.
"They did everything they could to stall it," Wong said. "They ended up giving more door prizes, more Twitter prizes and I was like, 'Just get to it already.'"
Wong, who directed the comedic film about speed dating for CMF, had originally planned to do a drama about blind dating.
"I definitely knew that speed dating would have funnier moments than two people constantly at the same table and just having a stagnant conversation," Wong said. "So I figured constant movement and having different people back and forth would be more interesting and more funny."
Although he has never speed dated before, Wong said it is not because he hasn't wanted to.
"I actually wanted to (speed date) for this project," Wong said. "But usually those kind of events are held at bars and being 19, it's a little bit tough for me to get into."
The main actress in the film, Rosie Anderson, a 19-year-old theater major, said Wong is one of the most assertive and dedicated people around her age that she knows.
"He knows what he wants and sticks to it while also trying to make sure everyone is taken care of," Anderson said. "You can already tell that he is going to do great things. His passion for filmmaking is inspiring and it was a pleasure to work with him."
Wong's cinematographer for the film, Kurtis Tautscher, 19, cinema major, said Wong always makes his films connect.
"The part where George and Rosie (the two main characters) talk about how they're both writers and Rosie talks about her idea of a retired GI soldier who comes back to America is actually a film that he has been writing for a while now, called 'Vlogger,'" Tautscher said. "It's just amazing the thought that goes into every detail of his writing and filmmaking."
Wong began his own production company in high school, AWSoy Productions, and since has been creating films.
"If you have an idea he will hear you out but it's hard to get him to change something," Tautscher said. "Which is almost always a good thing because the films we work on really mean something to us, especially Andrew who scores most if not all of his films. He has so many ideas it would take years to film them all."
As the winner for Best Picture, Wong's film will go on to compete on the national level at CMF Hollywood next year. For his future plans Wong hopes he can one day be a cinematographer for a Travel Channel show.
"One of my heroes is Anthony Bourdain. He goes and sees the world and understands so many point of views," Wong said. "After I do that I'd like to come back and transfer that into my writing and really have more empathy for the world and put that into my films."