[set_id=72157640207572134]
The Gators were unable to ride the momentum of being nationally ranked for the first time all year into a victory over the visiting Stanford Cardinal.
SF State fell to Stanford 33-8 in their dual meet at The Swamp Saturday afternoon Jan. 25; the Cardinal came into the match up ranked 25 in Division I wrestling.
"We had some close matches," said head coach Lars Jensen.  "We won two matches, but we could have won three or four I thought. (They're the) toughest team we wrestle all year and I thought we did pretty well."
Seniors Isaiah Hurtado and Dylan Phillipy scored the only victories of the day for the Gators, as the team jumped out to an early 8-4 lead.
"I feel like a lot of it is mental," Phillipy said.  "We psych ourselves out a lot, I mean we are up to caliber, a lot of the matches we lost were only 2 point differences, we didn't get massacred."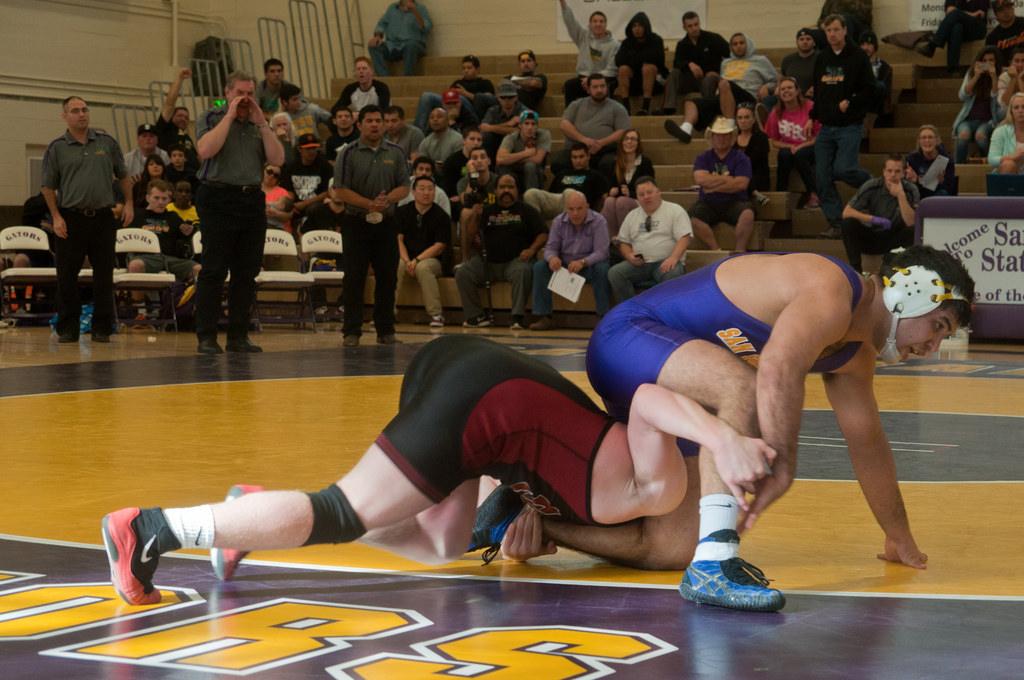 Zach Jimenez wrestles against Standford Cardinal Peter Russo while his coaches watch during the SF State home game on Saturday, Jan. 25, 2014. Standford beat SF State with a final score of 33-8. Photo by Jessica Christian / Xpress
But things went south in a hurry, as the Cardinal would win the next seven matches — including two by pins. 
"It's kind of upsetting seeing them get in their own heads," Phillipy said.  "Again it's the mental game, they're division 1, they're ranked 25 in the nation, what are we going to do, instead of just going out there and having fun.  We don't give ourselves enough credit, and it definitely showed in that dual meet."
Even with this loss against Stanford, the Gators' spirits remain high as they are in the midst of their most successful stretch of the season, with wins in six of their last eight meets, including three victories over top 11 ranked schools. 
"We just have to look at the positives there's things we have to work on," said senior Zach Jimenez.  "It's a lot better wrestling against these guys because you're wrestling the best of the best and you know what it feels like, you have that sense that you've wrestled the best." 
SF State's recent string of huge victories has vaulted them into the top 20 national rankings.  The Gators are tied for 19 in all of Division II wrestling with the latest poll released Jan. 17. 
"We've beat the number nine, 10, and 11 (teams) and we are only ranked 19 but that's all political," Jensen said.  "It's good, we always want to be nationally ranked, it's good for PR and papers and all that but I think we should really be ranked in the top 15."
Not all Gators view their low ranking as a negative, though.
"We like being kind of under the radar," Jimenez said.  "We beat nine, 10, 11 in the country and we are still only 19, sometimes it's nice to not get the respect you want, because it makes you want it more."
SF State will have six days to recuperate before their busy weekend with they have two duals and a tournament in just two days.
They will host Cal State Bakersfield and Simon Fraser Friday, Jan. 31, and then the California Collegiate Open the next day Feb. 1, all at The Swamp.
"I think this team has so much more potential," Phillipy said.  "Our team just needs to open up our eyes and see that we are not that far away from accomplishing all our goals.  We just need to get on each other, push these last couple weeks and have fun with it."