[HTML1]
As poets bared their souls on stage, the sound of snaps echoed through the Humanities Auditorium during the annual Battle of the Bay Poetry Slam.
For the third year in a row, Spoken Poetry Expressed by All Kinds, also known as S.P.E.A.K, walked away victorious in the battle. The group hosted its third annual Poetry Slam in the Humanities Auditorium Thursday night, which hosted a packed crowd of nearly 160.
S.P.E.A.K battled against poetry groups from UC Berkeley and USF. The groups battled for four rounds and each poet had to perform an original piece within a short time limit.
Five members of the audience volunteered to score the poets on a scale from 0.0-10.0 after each performance. The MC of the event, communications major Keenan Todd, highly encouraged the audience members to cheer or boo the judges' scores along with Javon Johnson, a communication studies assistant professor and one of S.P.E.A.K's coaches.
Even though junior sociology major Jari Bradley is a recent addition to the S.P.E.A.K, she is not a rookie in poetry competitions.
"I have always been doing spoken word poetry. I've been doing (poetry) since I was 15, so when I went on campus I figured I'd try out for the team," she said. Bradley joined S.P.E.A.K this semester.
Bradley performed three poems including a group poem with Jarvis Subia titled "Queer Bodies in the Sanctuary." Bradley describes the poem as a commentary on how to live as a queer-bodied person brought up in a religious background.
"A lot of people in the nation are struggling with sexuality and spirituality. I feel sexuality and spirituality are pitted against each other. We don't have to make a choice," said Bradley.
Imani Cezanne, coach and co-founder of S.P.E.A.K, was selected to be the feature poet. Cezanne recited four new poems halfway through the show.
After graduating last year, Cezanne embarked on a nationwide spoken word tour called "Love.Always."and released a spoken word album of the same name. She performed at various poetry slams and completions from August to December.
Cezanne now teaches creative writing to middle school students in East Oakland but she takes time out of her schedule to coach the team.
"It's still evolving so I still want to help out," she said.
Cezanne started S.P.E.A.K as a sophomore four years ago because was surprised with the absence of poetry groups on campus.
"This is the Bay Area. I feel there should have been a poetry organization and there wasn't," she said. "I was looking for the poetry community and there wasn't one so I started one."
[set_id=72157641837155263]
Next, S.P.E.A.K will go to Boulder, Colo. to compete in the 14th College Union Poetry Slam Invitational (CUPSI) at the University of Colorado Boulder March 12-15. They will compete against about 60 other teams from across the country.
SF State is the only California State University sending a team to CUPSI. S.P.E.A.K was the first poetry group from a California State University to compete in CUPSI when they competed in 2012.
Even though S.P.E.A.K won the slam competition, Johnson said that there is more to winning. He compares local competitions to scrimmage games. Johnson said he observes parts of the team's performance that need polishing before they go to CUPSI.
According to Africana studies major and vice president of S.P.E.A.K, Jasmarie Murry, the previous Battle of the Bay poetry slams were free, but this one was donation-based. All donations go toward funding for the team's trip to Colorado.
"We're very, very close. We have enough to buy everyone's plane ticket. We need more for the hotel," said Murry. Since S.P.E.A.K does not receive funding from the school, they turn to fundraisers and donations to compete in competitions.
Murry said she joined S.P.E.A.K because she was inspired by the creativity and how they provide a safe space for poetry.
This Battle of the Bay attracted their largest audience. Cezanne said only nine people showed up for the first competition. Second time around, the audience grew to about 100 people, according to Todd.
In addition to the poetry slam, S.P.E.A.K also hosts monthly open mic nights at The Depot.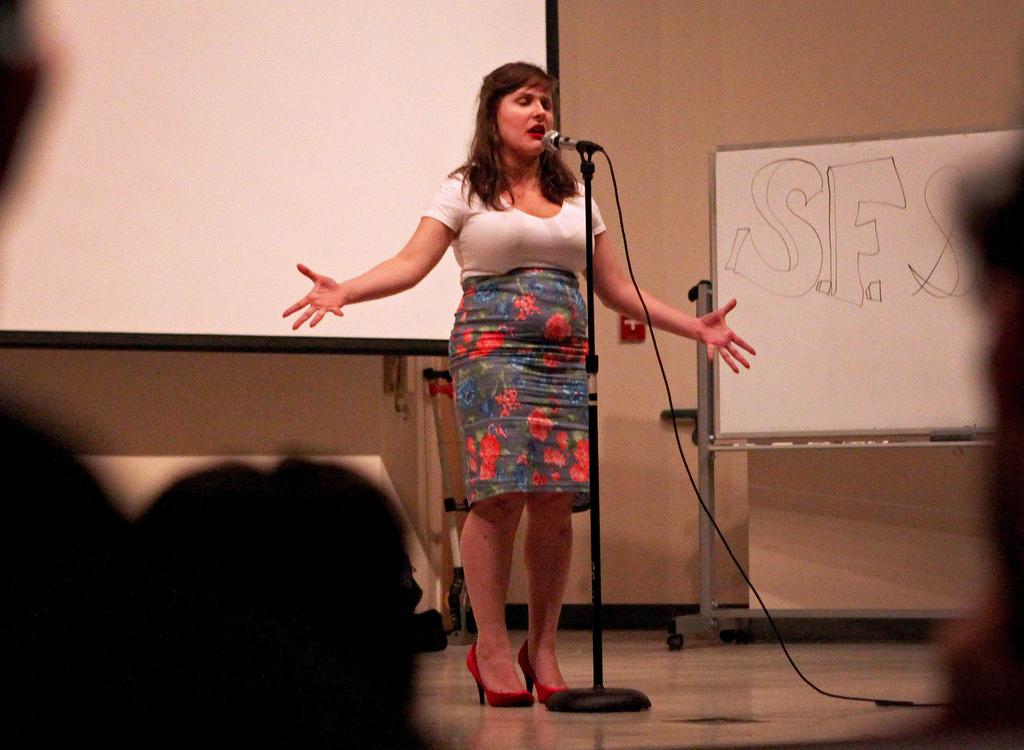 S.P.E.A.K SFSU's Becky Raeta performs "To My Father" during the Battle of the Bay Poetry Slam in the Humanities Auditorium Friday, Feb. 28.