Student athletes gear up for summer training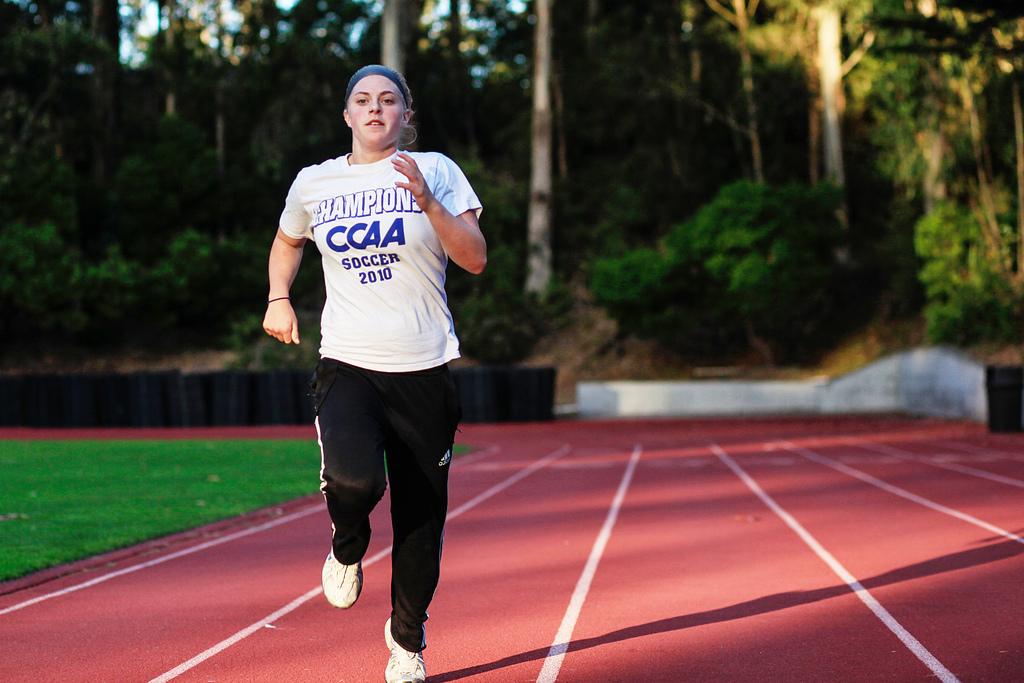 With the semester coming to a close, it's time for those overstressed, overworked students to unwind and kickback in the summer glory. But for student athletes, the end of the school year is only the beginning to an intensive summer of training.
"Summer is difficult for us," said Kelly Coffey, the men's soccer assistant coach. "During the year, we work with the athletes six days a week, and then suddenly we don't see them for 10 weeks straight. So it's important that they spend that time conditioning."
For the returning soccer players, the required workouts are essential in ensuring athletes come back in shape and less prone to injury, said Coffey. Students are given a conditioning plan comprised of daily exercises like a "20-minute speed ladder" — a set of 10-14, 100 meter sprints on Monday; a 35-minute continuous run on Tuesday and a three-mile run on Wednesday. The exercises become more complicated and intense each week.
"We have a pretty young team next year," said Coffey. "We have nine graduating seniors and so we recruited a lot of freshmen. It takes a while for the young group to figure out the fast college game and it helps if they come in fit and ready to play."
Coaches at SF State also push their athletes to play on an organized team during summer.
"I encourage them to play doubles or sand so that their skills stay sharp over the summer," said Jill Muhe, the women's volleyball coach.
While the programs are enforced to keep athletes on their feet over break, it is also designed to ensure that students have time for other summer plans.
"I work in the city, so I'll be going back and forth home in the East Bay for training and here for work," said Kaitlin Dick, a third-year women's soccer player. "It's hard to balance, but it's just a matter of getting the workout done and keeping a schedule."
Dick spent the fall and most of the spring season out with a knee injury and sees the summer conditioning program as an opportunity to continue her recovery.
"Summer is about keeping up with fitness and skill," she said. "We can start worrying about our goal as a team once the season starts. We always just focus on the game ahead."
For the cross country team, summer is a time for SF State's runners to prepare to defend their reputation. The team had a successful season, coming in fourth in the western region and qualifying for the NCAA nationals where they finished 22nd in the nation.
"Now that we've been to nationals, and had a taste of success, we want more," said Tyler Deniston, a fifth-year cross country runner. "This next season is a chance for us to prove that we're a top cross-country school in California."
Returning runners' summer workouts will include exercises like weight training, a two-hour run, and aqua jogging — an exercise mimicking running in a pool — intended to give the legs a workout without too much strain.  Though the program is taxing, said Deniston, the athletes are fueled by a vision of success and nationwide recognition.
"If we maintain this, we can be desirable for high school recruits and have our name up there with cross country teams like Stanford and Colorado, where you know every year is a good year," he said.
Deniston agreed that athletes need to keep up with a regular workout routine to stay on top of their game. The cross country team is expected to run more mileage than they would during the school year. A task Deniston says is difficult, yet imperative to provide a foundation for training to come.
"If you want to be a good competitor, you have to keep working," said Deniston. "And summer is no exception."
View Comments (1)