[set_id=72157635499299601]
Friday the 13th proved to be unlucky for the SF State women's soccer team as they fell to rivals Sonoma State 3 – 0 at Cox Stadium.
The Gators were thrown into the fire immediately as they opened up the conference play against last year's CCAA north division champions. Sonoma State ranked 18th in the NCAA Division II preseason poll before dropping out of the top 25 this week.
"There were definitely some nerves," said starting forward Autumn Fox. "Considering it was our first conference game against a good team."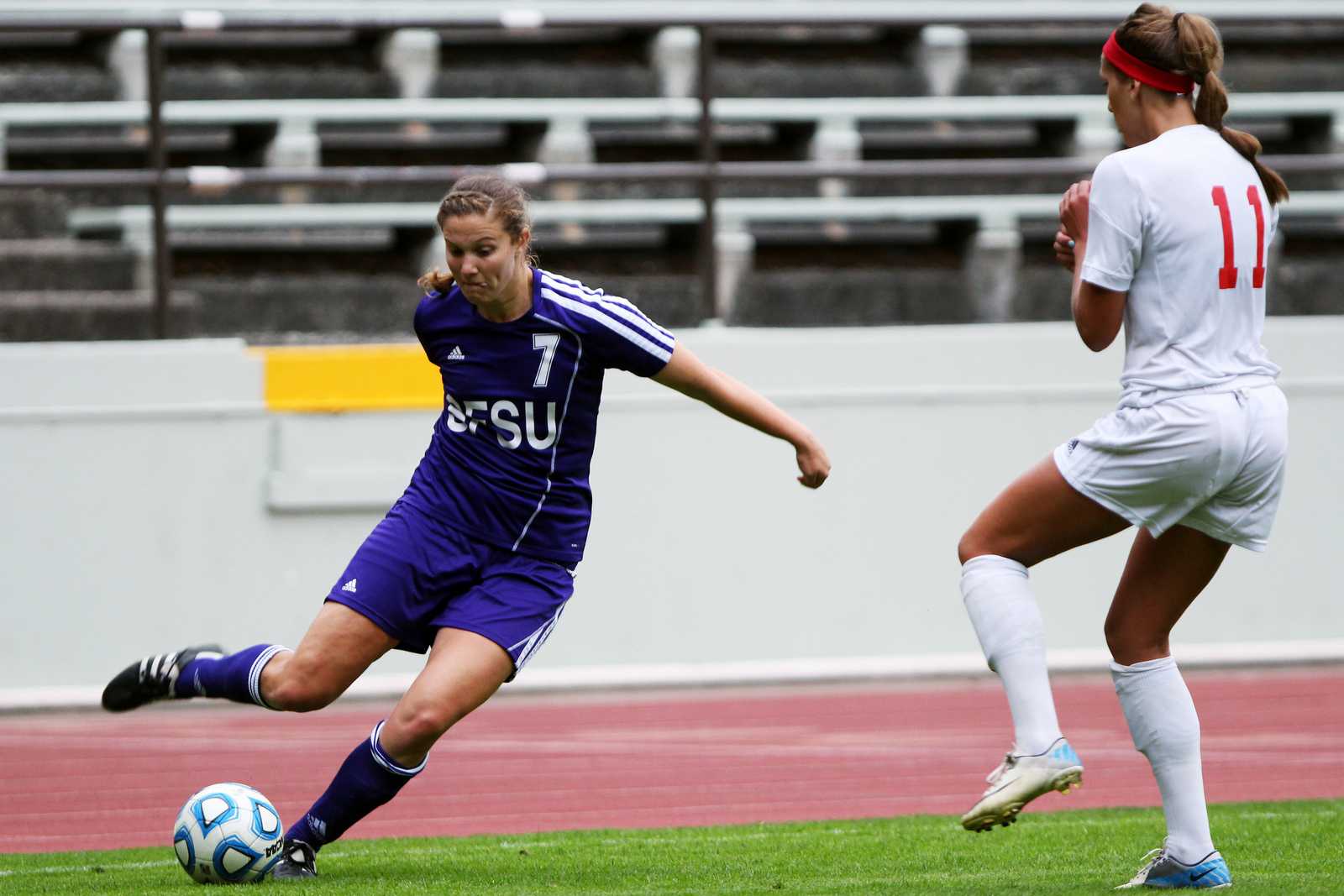 After a scoreless first half, the Gators unraveled in the second, allowing two quick goals from the Seawolves' Lauren Fryer and Kristal Luna in the first three minutes of the half.
Sonoma State's All-American Cara Curtin added another goal five minutes later. Curtin was the Seawolves' scoring leader last year with 15 goals—a performance that won her the CCAA Newcomer of the Year award.
"Sonoma came out ready to go in the second half," said starting defender Stephanie Vanni. "Our mentality was not there for those seven minutes."
Sonoma State was the aggressor early as they recorded nine shots in the first half and Curtin constantly pushed the tempo.
"We knew they were a good team," said head coach Jack Hyde. "We did well in the first half, we knew if we could keep them from scoring we'd do OK, but unfortunately we had a bit of a mental breakdown in the second half where in a total of seven minutes they scored three goals."
The Seawolves' defense kept the Gator's offense in check all game, SF State generated minimal scoring chances and was held without a shot on goal until the 54-minute mark when Vanni's attempt was turned away.
SF State was shut out for the first time this season, managing only three shots on goal.
"We just couldn't hold the ball up there," Hyde said. "We were giving balls away, we just weren't as quick to react when we had the ball. Just looking at Sonoma, they are a better team than we are, we maybe have four or five key players and they've got about 12."
Something had to give when these conference rivals matched up, as both teams came into the game without a loss. Sonoma State entered play with a 2-0 record, while SF State came in 1-0-1.
"They just do things better than we do," Hyde said.  "But that's how you learn, you play in those situations, and hopefully we can learn from this and we can do better on Sunday and the games ahead."
To add injury to insult, junior forward Lauren Floro was carried off the field with less than six minutes remaining in the game holding her left leg.
The match against Sonoma State was a part of a grueling stretch of home games. The Gators tied Western Oregon Wednesday Sept. 11 and lost to Humboldt State 0-1 the following Sunday. The team will have a five day resting period before its next game against Cal State L.A. on Sept. 20.
"We talk about mentally getting back," Hyde said. "Being positive, it's a new game, a new day; it could be a different result."