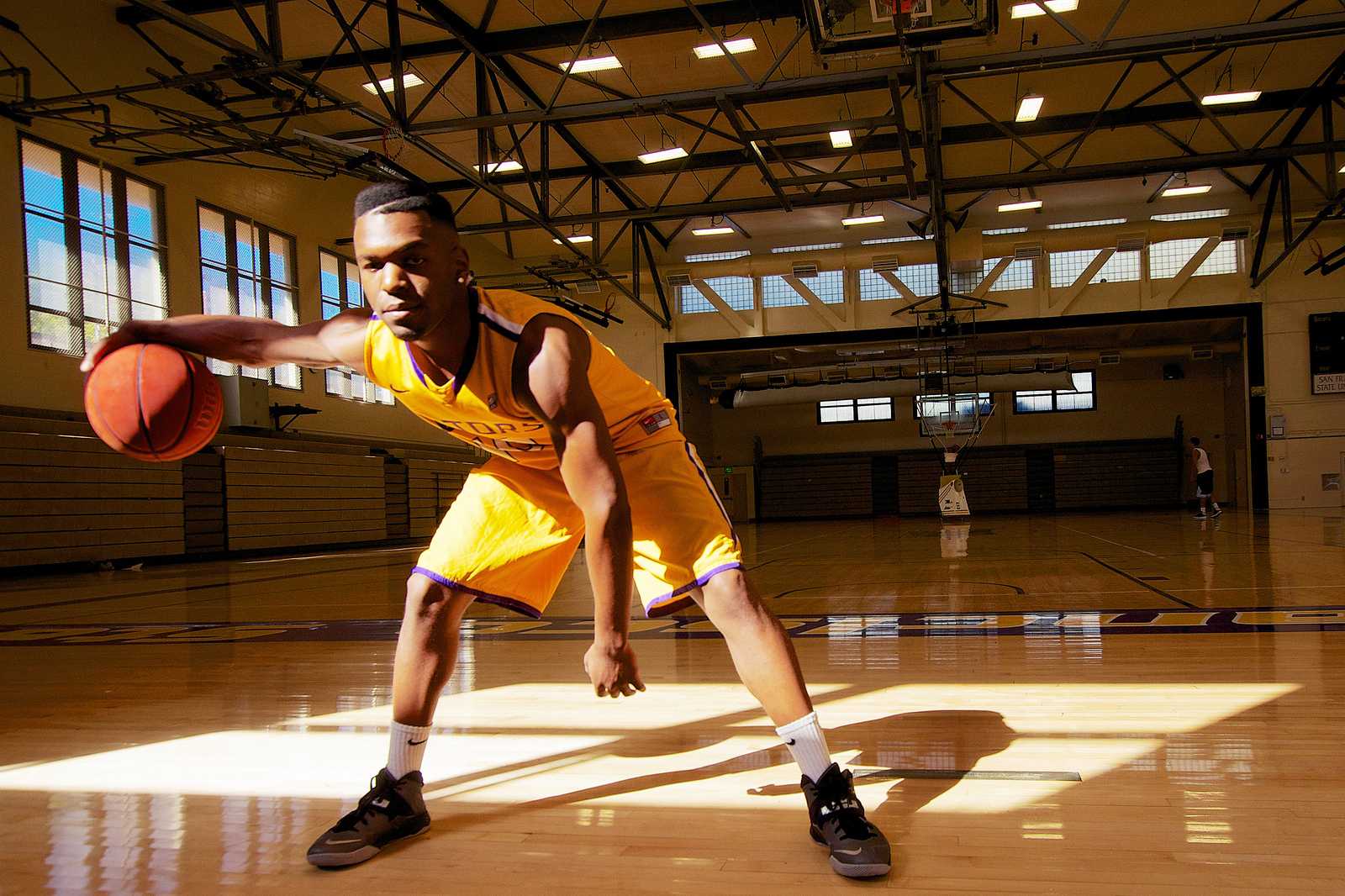 Off the court, SF State basketball player Calvin Otiono is known by his team, as well as his family and friends, for his upbeat, outgoing personality. But upon tip-off, the 6'1″ point guard is a force to be reckoned with.
"He's got a great personality, but at the same time, he's a competitor, he wants to win," said men's basketball coach Paul Trevor. "He'll beat you and smile at you while he's doing it."
Otiono, a junior college transfer, joined the SF State team last year after sitting out a year in-between schools. In his debut season, he drove the Gators to a fourth place finish in the California Collegiate Athletic Association and ninth place in the West Region. Individually, he led the CCAA in three-point field goal percentage with 47 percent, while racking up all-conference first team honors.
His achievements stem from a lifelong zeal for basketball and dedication to perfecting his craft. As a kid growing up in Sacramento, he remembers getting hooked on the sport at an early age.
"(In third grade), I would ask my dad to take me to the park so I could get better and beat every kid in my class," Otiono said with a laugh.
His mother, Erica, signed Calvin and his two brothers up for basketball camp on the weekends to keep them busy, and quickly realized her middle child had a gift.
"He was still very, very young," she said. "But when he played, he stood out from the others."
Otiono led his Sheldon High School team to a San Joaquin Division I Championship. His coach at the time, Scott Gradin, strongly believed he had the potential to play at the next level. Gradin connected Otiono with Brian Katz, head coach of the men's basketball program at San Joaquin Delta College, a powerhouse among junior colleges.
It was under Katz's seasoned guidance that Otiono became a college-caliber player.

"(Practice) was extremely disciplined, almost like we were in the military," Otiono said. "We were running 100 percent at all times; we had to tuck in our shirts; we had to have eye contact with him while he was talking. I feel like (Coach Katz) just wanted to teach that discipline, that groundwork, to be a successful person. And with that discipline I think it helped (us) mature."
Along with his newfound discipline, Otiono left Delta with a California Community College Athletic Association Final Four appearance under his belt, one of only two in the school's history. His success there was enough to peak SF State coach Paul Trevor's interest, and he reached out to Otiono during his quest to transfer. The two automatically clicked.
"It's really nice coaching Calvin, he never loses his composure," Trevor said. "You think you're making a run at him, and he's nice and relaxed. He'll say something like, 'Hey, we're fine, we'll figure it out.' You want a guy that brings that kind of calming effect to your basketball program. He has a unique ability to make the people around him better and to win."
With three returning all-conference players in Otiono, Nefi Perdomo, and William Overton, Trevor feels the Gators are in a good position to capture the CCAA conference title. For Otiono, who's in his senior year, it would be the perfect way to end his college career.
"I just want to win," Otiono said. "Our main focus right now is to put a banner up, get a CCAA championship. And I feel like we have the talent to do it. That's really my only goal."
After graduation, Otiono, a sociology major, plans to get his master's degree in business and hopefully continue his basketball career at the professional level.
"I hope to play basketball for as long as I can," he said. "If I can go overseas, that would be great. I could definitely see myself playing over there. I just have to continue to work hard."