SF State's new athletic director began only months ago. Since then he's hired three new coaches and reinvented the Gator image.
"It has been a fun project to kick off our objective of creating a consistent brand identity for SF State athletics," said Charles Guthrie, the new athletic director who introduced a new Gator logo Monday.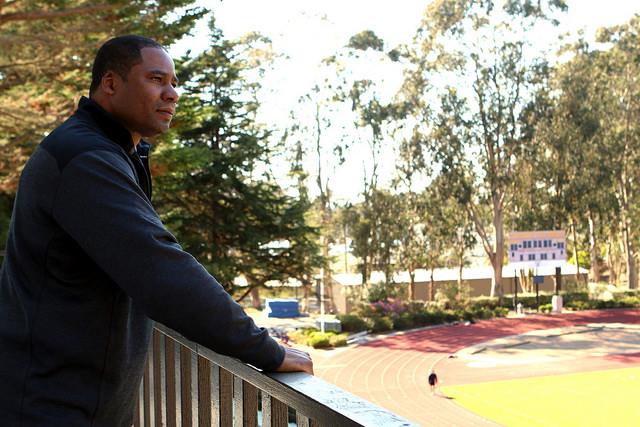 The three coaches, which include former Clayton State Women's Basketball coach Dennis Cox, former Claremont-Mudd-Scripps Track and Field coach Kendra Reimer and former CSU Bakersfield Men's Soccer coach Matt Barnes, come to SF State with impressive pedigrees.
Guthrie's biggest hire, Cox, takes over after he won an NCAA Division II title in 2011, and reached the NCAA tournament all 10 years he coached at Clayton State in Georgia. Cox currently holds the winningest record of all NCAA Division II coaches, where he sits at 267-57.
"The very first phone call he gave me, I could feel his energy from talking to him on the phone," Cox said of Guthrie. "His energy is contagious, and it got me all excited."
The Women's Track and Field coach, Reimer, produced nine All-Americans and accumulated a combined 104-16 record between the men and women's teams she coached since 2010 at Claremont-Mudd-Scripps College.
Barnes takes over after he won two Division II national titles as both a player and an assistant coach at CSU Bakersfield.
Guthrie's three new hires are not the only ones with successful backgrounds. Guthrie himself joins SF State after turning Clark College of Vancouver, Wa. into a championship calibur program, where 10 of 11 teams made it to the postseason.
According to Guthrie, Clark College's athletics were not as successful when he first arrived to the school.
"There were some very specific challenges at Clark that needed to be addressed and that were established as priorities for the institution," he said. "(Mainly) implementing roster management and ensuring that first and foremost Clark's program was one built on integrity."
According to Guthrie, he is only getting started in turning around SF State's athletic program, which only have five of it's nine teams finish above a .500 record, and only produced one playoff team.
"There is typically not just one thing you can pinpoint that is a root cause for a lack of competitive success, often it is a combination of factors that span different areas," Guthrie said. "I'm confident we can create a program that the SFSU students, faculty, staff and alumni are proud of."
Before he turned around Clark College, Guthrie's athletic-administration background goes back to his days as an intern for the Eastern Collegiate Athletic Conference when he was in college.
"My family would say I got my start in athletic-administration when I was just a kid growing up in Albany, NY," he said. "I used to organize and pull together the informal neighborhood competitions, including designing and chalking our own baseball field in our backyard, (so) when I realized I could do what I've always loved to do as a career, I was hooked."
At the SF State's Annual Fall Faculty Meeting Monday, the deans of each university introduced all new faculty members who started this semester. President Leslie E. Wong went out of his way to highlight Guthrie in his closing statements, and expressed his excitement for Guthrie's arrival.
"I am very excited about what Charles has done so far," said Wong. "We aren't Division I, but boy are we going to be competitive in Division II."