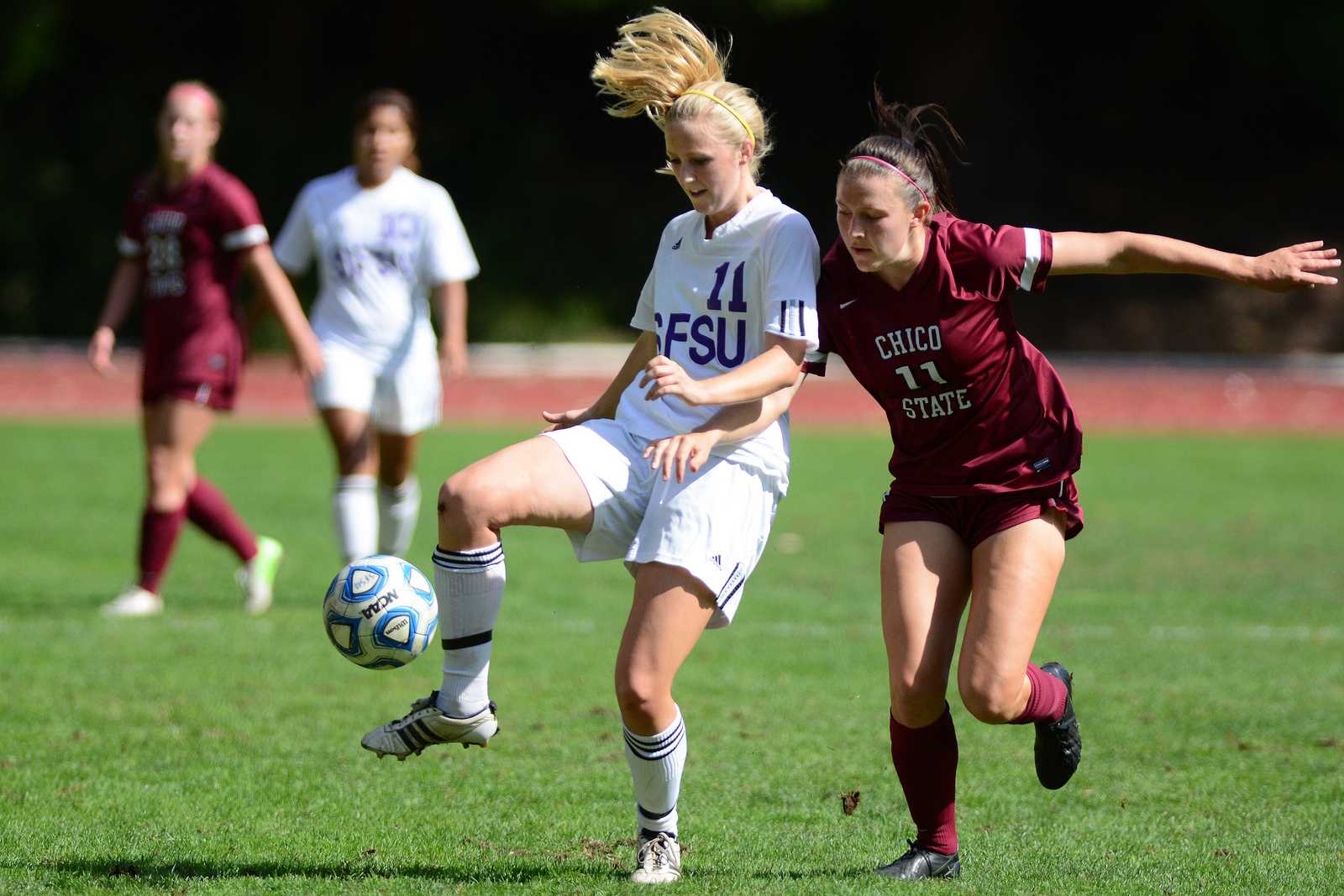 Things looked bleak for the struggling Gator offense, held scoreless for the first 84 minutes of its matchup with Chico State Sunday — but a late goal changed the team's luck.
With just six minutes to go in the game, a corner kick by Kelsey Wetzstein found midfielder Lauren Hayano in the front of the net where she knocked it in past the goalie to prevent the team's fifth consecutive shutout loss.
"It's huge," Hayano said. "We were on a losing streak and we needed a win and a goal. Next week we play Humboldt and Sonoma and we lost to both of them, so it's important to get a win under our belts so we can go in confident to those games."
SF State improved its record to 2-5-1 in conference play. With this win, the Gators leapfrogged division mate Humboldt State and moved within three points of third place Cal State Monterey Bay.
The Gators outplayed the Wildcats offensively, outshooting them 13-8 and generating a handful of scoring chances. But the team came away empty handed until the late goal.
"We were getting so many chances," said goalkeeper Allison Land. "It was good that we were making those runs and we were making moves inside the box so it wasn't frustrating at all."
The Gators came into the game desperate to climb out of last place in their conference, as they came in with just four points on the season.
"It's disheartening knowing that we played just as good as the other teams," Hayano said. "They just get a lucky goal, so it has been tough in that sense, but hopefully with this win we get some momentum and keep moving forward."
Both Chico and SF State came into the game with last place records in their respective CCAA divisions, managing only three wins between them.
"We had a meeting yesterday and (we) said the main thing is you have to keep your attitudes right," said head coach Jack Hyde. "If you start thinking you're not a good person because the results aren't going your way then it'll start to affect your game."
Scoring has been a problem for the Gators the entire year, as they have managed only three goals in eight conference games.
But when they do score they don't lose, sporting a 2-0 overall record when they manage to get a goal. All five of their losses have been shutouts.
Coach Jack Hyde switched his lineups around with freshman defender Jada Williams getting her first career start in place of sophomore Graceann Rettig.
"Jada's played very well in practice and deserved a start," Hyde said. "The people who have been in the previous three games have not been doing it for us. I think it makes a statement to the group that nobody's position is safe, we have to win these games, and we are good enough to win these games."
The Gators have the next five days off before they play two games in three days. They play consecutive road games against Humboldt State and 15th-ranked Sonoma State.
"Once we got that goal we are going to turn it around," Land said. "It's going to come quick, I think we are on a uphill right now and we are looking forward to Humboldt."