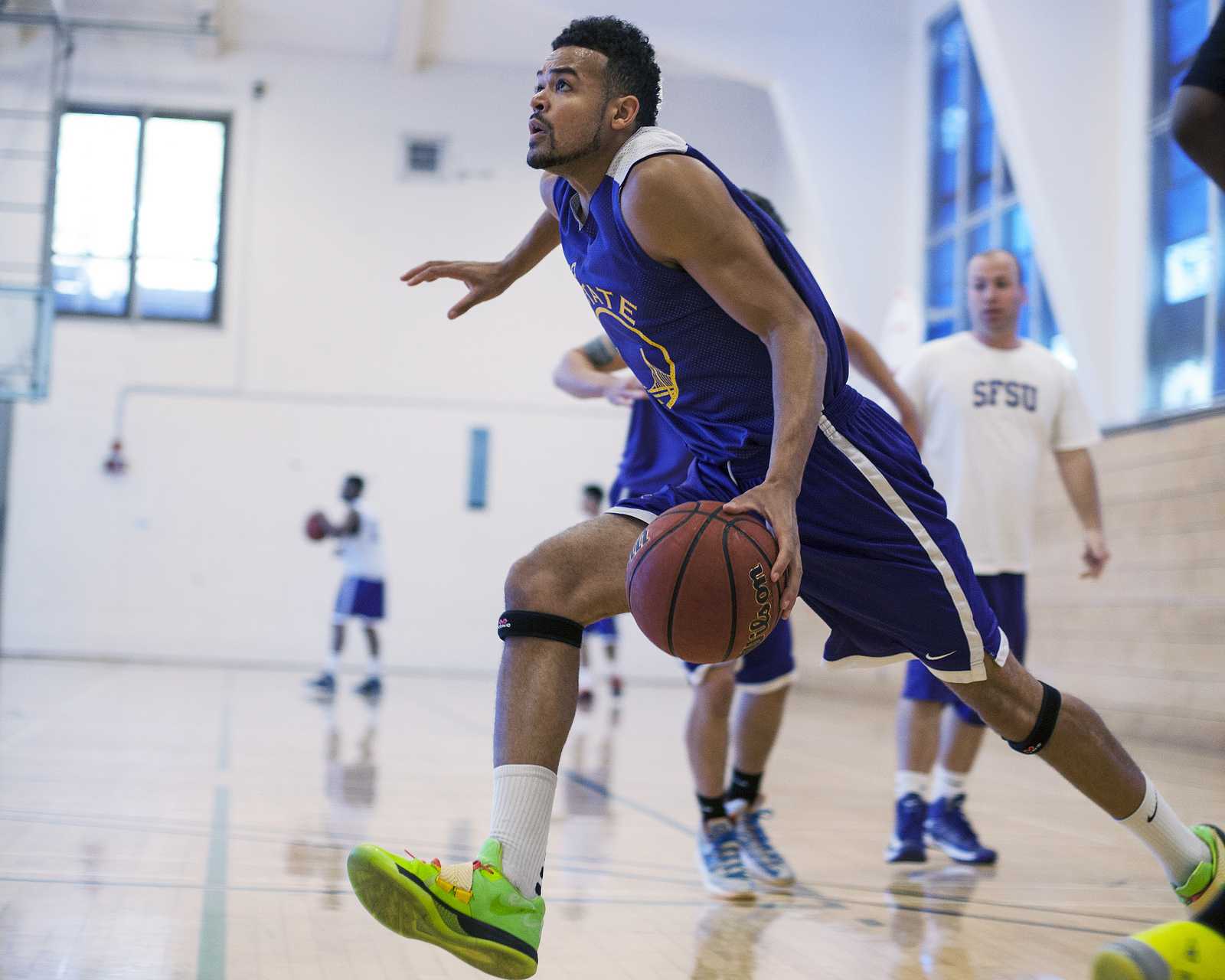 Stocked with six returning players, including two fourth-year seniors, the veteran presence has the SF State's men's basketball team poised to make a run at a conference title.
With these returning players, the Gators look to improve on a year that saw them finish fourth in the California Collegiate Athletic Association conference with a 13-9 record, and ranked tenth in the West region.
"It wasn't good enough," said head coach Paul Trevor. "They know it wasn't good enough, we were better than that (…) so we got a lot of hungry seniors in there."
First team All-CCAA guard Calvin Otiono returns for his senior season joined by fellow senior and second team All-CCAA member Will Overton Jr. Two-time All-Conference selection Nefi Perdomo will also return after breaking his arm five games into last season.

"With Calvin (Otiono), Nefi (Perdomo) and Will (Overton) your one, two and three are all All-Conference," Trevor said.  "You're also led by Max Fodor who is a four-year senior and Brandon Tatum who was your glue last year, so we have five key guys not including the guys we brought in, so we have a really good nucleus."
Perdomo rejoins a team that fell to eventual champs Cal Poly Pomona by just four points in the second round of the conference tournament.
"I'm really excited about coming back," Perdomo said. "I've been watching for a whole season, so I just learned a lot from watching and I'm just really excited to play."
SF State will be without last year's leading scorer Decensae White, who graduated in the spring.  White made news in the offseason after being arrested in connection with the murder of Atlanta rapper "Lil Phat."
"It's an interesting thing because knowing Decensae you would never imagine such a horrible thing to have occurred," Trevor said.  "I still don't know much about it to this day, literally it hasn't affected us at all. We've just gone about our business and we wish the best for him and his family, but we don't touch on it too much."
The Gators will not be lacking in leadership as they boast a roster with seven seniors, five returning and two transfers, including former Fresno State Bulldog, Bennie Rhodes.
"If you're messing up, all the seniors are going to say something," Perdomo said. "We know what we want, and it's our last time to accomplish our goals—the (CCAA) conference and division II championships."
The early part of the team's schedule will not be kind to the Gators as they open the season with an exhibition game Nov. 2 in Queens, New York against a division I St. John's University team.
And things don't get easier for the Gators; the third game of their season is against division II preseason no. 1, Seattle Pacific. SF State did enjoy success against ranked opponents last year as they beat both top 10 ranked Seattle Pacific and Cal Poly Pomona.
"Playing in big games is something a lot of teams don't get to do," Fodor said. "We had the opportunity to play multiple big games so that kind of gets us ready for even more games. It allows our confidence to build so we know what to expect from a bigger crowd against a higher ranked team, so we aren't going to come out shy or timid."
The Gators begin practice on Tuesday, and will host a midnight madness event, open to SF State students from 9 – 11 p.m. on October 18 in the main gym, aka the Swamp to introduce the team to students. Their regular season starts on Nov. 19 at William Jessup University.