Cross-country has small victories despite illnesses during CCAA meet
[set_id=72157637111228303]
The SF State cross-country teams' toughest opponent at last Saturday's California Collegiate Athletic Association championships was not one of the conference rivals running the wooded trails beside them. Surprisingly, the Gators' biggest battle of the meet was with ill-timed injury and illness.
Nagging pain and lingering colds affected several SF State runners, particularly Bruk Assefa and Zuleima Bernal – the team's top finishers. Assefa battled flu-like symptoms as he raced, and Bernal nursed a recurring plantar fasciitis injury.
"(Zuleima) was running in pain, and that might have cost her a few places," head coach Tom Lyons said. "When the front pack of four pulled away, she just couldn't go with them, with her hurt foot. And Bruk…if he wasn't battling a cold, he could run with the top guys in that field. But when the (men's front pack) started putting in some surges, trying to break up the field, he just wasn't able to respond because he'd been feeling pretty sick."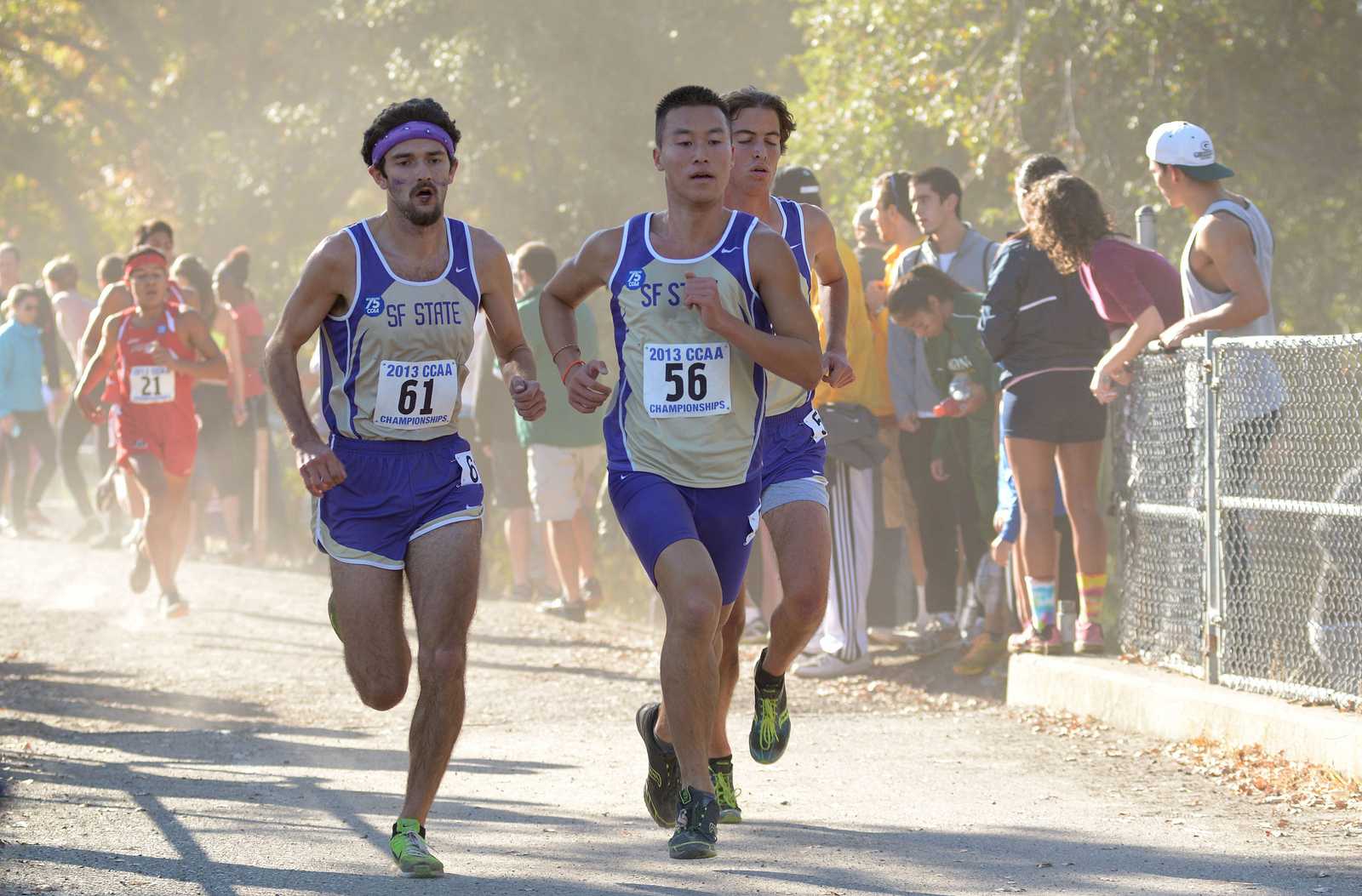 Despite the various infirmities, SF State managed to have a solid performance — several of the Gators ran their best times of the season — allowing the men to finish fourth, and the women, seventh overall. According to Lyons, a lot of hard work in the weeks prior to the CCAA meet helped SF State's runners overcome any discomfort they felt during the race.
"When you prepare and train as much as they have, you're still going to be right up there," Lyons said. "The whole team has put in a ton of work."
The defending champions, Chico State, walked away with the big prize of the day. Another CCAA title for both their men and women, and individual titles for Aaron Thomas and Ayla Granados. But SF State's teams had small victories of their own at the meet. Three Gators — Bruk Assefa, Zuleima Bernal, and Paxton Cota — were awarded All-Conference honors for finishing in the top fifteen runners in their field. Assefa and Paxton were both tenth place finishers and Bernal placed fifth.
"We've all been working so hard, so it's time it starts to pay off," Bernal said. "I (tried to maintain) a good position in the race and try my best. The course being flat helped my foot tremendously because it would have been a bit more painful if there had been hills."
After racing on challenging inclines all season, SF State took advantage of the smooth terrain of Hooker Oak Park in Chico.
Kaylie Belk and Alicia Trujillo quickly moved up through the ranks in the women's race, coming in 43rd and 55th out of more than 100 competitors.
"They ran a very strategic race in a very competitive field," assistant coach Brittany Garrett said. "And they had great finishes, staying strong throughout the last half of the race."
In the men's race, Assefa ran his fastest time of the season: 25:13 — a whole 30 seconds faster than the last year's winning time — despite his cold. His teammates Kenny Trejo and Michael Garventa went from regular season non-scorers to fourth and fifth finishers.
"Michael and Kenny had an outstanding day, rounding out our scoring five. We really needed those two and they came through like veterans in their first conference meet," Lyons said.
SF State now has two weeks to recover before they head to Spokane, Wash., Nov. 9 for the NCAA Division II West Region Championships. If the men or women finish in the regional meet's top five teams, they will clinch a spot in nationals. For the men, it would be their second trip to the national championship in two years.
"As a team, we've all been working hard, trying to be the best," sophomore runner Benji Preciado said. "Our pack of runners are strong and can do a lot of damage, we just need to apply it in our next race in order to make nationals."
By then, the Gators hope to be rid of the illness and injury that affected them last weekend.
"I feel like, if we can get to the (regional) race, feeling good, with sickness and injury not being issues, then we're going to run well," Lyons said. "So that's our top priority, getting them to the race feeling good. We want everybody to be as healthy as possible."
Leave a Comment