Men's basketball cruise to win against CSU East Bay Pioneers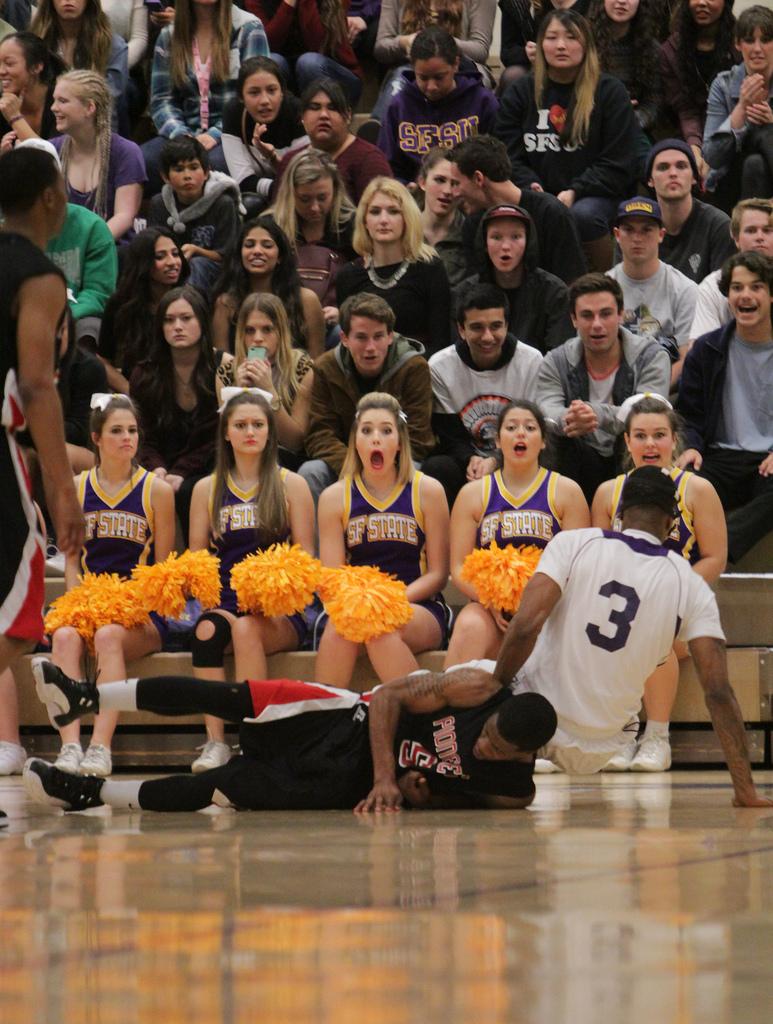 SF State Gator (3) and CSU East Bay (5) fall to the ground attempting to grab the ball. The Crowd in the background gasps as CSU East Bay and SF State battle it out Friday February 28. Photo by Erica Marquez / Special to Xpress
Tonight, the only downpour that SF State witnessed was indoors.
After a tight game in the first period against Cal State East Bay, the Gators went off after halftime, making it rain with a barrage of swishes and never looked back.
By the end, the forecast turned out to be a blowout as the Gators cruised to an 81-57 victory against the Pioneers at The Swamp Friday, Feb. 28.
"We came into halftime and we weren't satisfied," senior guard Nefi Perdomo said. "We know that we need these last two wins to get into the conference tournament so we just pushed it like it was our last game."
Coming off a three-game losing streak, the Gators broke the dry spell in the wins column with a dominant second half after a 34-31 lead after the first period. A 22-9 run after halftime gave the Gators a commanding lead that they would hold on to the rest of the way.
"Everything is must win from here on out; it's one-and-done time now," head coach Paul Trevor said. "We had to win tonight, we have to win tomorrow night, then from there it's all about keeping it going."
[set_id=72157641683741455]
Perdomo led the team with 23 points and senior guard Bennie Rhodes, who broke his nose at practice and wore a face mask during the game, helped from beyond the arc with three three-pointers to finish with 15 points and seven rebounds.
"If I had an open look, I went to shoot it. My teammates did a great job of finding me when I was open so a lot of the credit goes to them," Rhodes said. "It wasn't because of the face mask."
The Gators are now 13-11 for the season and 11-10 in the conference, which puts them in sole possession of the six and final spot in the conference tournament with one game to play.
 The team's final game of the regular season will be tomorrow against Cal State Monterey Bay at The Swamp. A win against the Otters will put the Gators in the conference tournament, which Perdomo said is all he's focused on.
"We need a 'W.' It's my last game. It's going to be an emotional game," Perdomo said, who will be honored along with six other seniors before tip-off tomorrow. "We just need a 'W,' there's nothing more to say."
View Comments (1)