Men's basketball locks down Cal State Monterey Bay, clinches tournament spot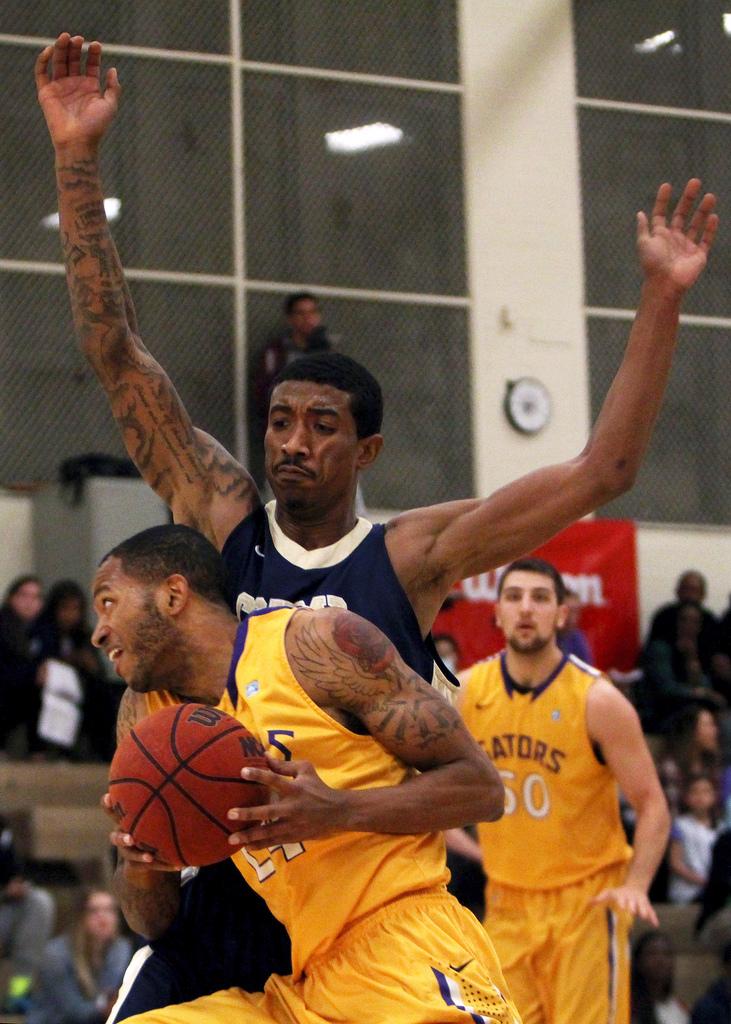 SF State's Brandon Tatum(24) runs into Cal State Monterey Bay's Kris Gallop (15) as he takes the ball to the hoop during a home game against the Otters Saturday, March 1. The Gators won the game 66 to 47. Photo by Gavin McIntyre / Xpress
With a spot in the conference tournament on the line, a tied game with 20 minutes left in their season stared back at the men's basketball team. Faced with a win-or-go-home decision, the team chose win — by a lot.
Using a stifling defense that shrunk the rim into a thimble for the Otters, the Gators took control of the game to crush Cal State Monterey Bay, 66-47 at The Swamp Saturday, March 1.
"It was a good way to go out," said senior guard Nefi Perdomo, who was one of seven seniors honored before their final home game. "I was just walking down memory lane, when I first got here as a freshman and how much I grew and I'm happy."
The victory clinched a spot for the Gators in the California Collegiate Athletics Association Championships next week.
Perdomo lead the team with 19 points and center Max Fodor, one of the other seniors honored, finished a rebound shy of a double-double with 10 points and nine rebounds.
"It's a little surreal, being that it's the last time I'll play a home game at that gym," Fodor said. "Being a senior, I put four years into the program and it's good to finally come out with a bang and get a big win that put us into the playoffs."
[set_id=72157641815757945]
The team was unable to find the bottom of the bucket at the start of the second period, head coach Paul Trevor took an early timeout two minutes in. From then on, the Gators would hold the Otters to just 10 points.
"We were struggling to score and we were putting so much pressure on ourselves to make the play and I think that we needed to relax and settle down and just play together," Trevor said. "We were trying to take on the world on our shoulders by ourselves and we needed to do it with each other."
The team finished the season with a pair of victories after they had lost their previous three games. With a 12-10 record in the conference, the team will travel next week to Ontario, Calif. to compete in the CCAA championships.
They will take on the third seeded Chico State, who has beat SF State in both their matchups during the regular season, but Trevor said he is just happy to be able to continue to coach the team for another game.
"I'm excited. I'm excited," Trevor said. "Let's go play one more and see what we got."
Leave a Comment