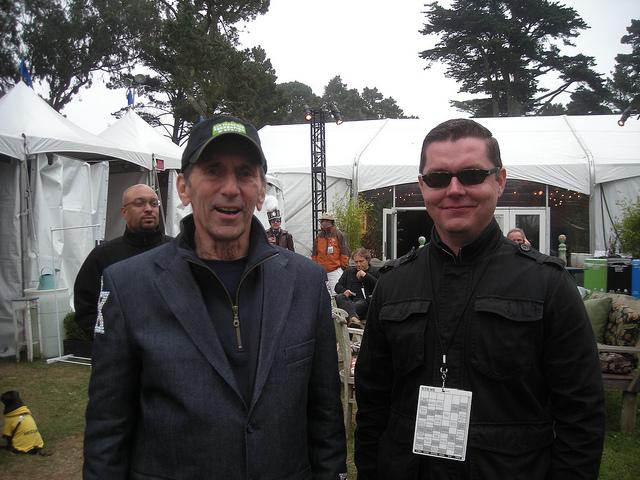 Driving from stage to stage in a golf cart through crowds of hundreds of thousands of people, SF State alumnus Will White made Warren Hellman's band wish list come true each year.
Hellman, a San Francisco businessman, founded the Hardly Strictly Bluegrass Festival in 2001 because he truly loved music. He may have brought the bands, but White saw to it that Hellman enjoyed them.
"It was an adventure, and we were trying to accomplish the same thing and try and see as many of the bands as we could," White, 37, said.
Together they tackled the three-day weekend for the past eight years, with each time getting progressively easier. White said 2011 was their best, logistically. He and Hellman had it all mapped out — and they conquered.
Just months after, Frederick Warren Hellman, 77, passed away Dec. 18, 2011, due to complications from leukemia. Hellman left a legacy after 11 years of bluegrass, said Jonathan Nelson, friend and co-founder of the festival. The festival, which has become tradition in San Francisco, continues in its 12th year Oct. 5 through 7 in memory of Hellman and in celebration of the music.
"I had no idea that that was going to be the last time that we did it to together," White said.
He remembers back to when he first started working the festival in 2003. He was a student at the College of Extended Learning at SF State studying for certification in the music/recording industry program.
There he was taken under the wing of his instructor Dawn Holliday, a co-owner and operator of Slim's and The Great American Music Hall. He recalled that the first bluegrass festival he worked was a trial run for full-time employment through Holliday. The following year he began his work as "Warren's shadow," he said.
Like White, Hassan Khider, 34, met Holliday through the MRI program at SF State and got his career kickstarted by working in stage building and set production for the bluegrass festival.
Khider's first experience with the festival was in 2005. Since then he has taken on a handful of responsibilities and says that though he identifies more with hard rock and alternative stylings of music, Hardly Strictly has built a team that is a family and nothing can keep him from the yearly return.
"It's like a family reunion!" he said excitedly. "It's something that you can't just say no to. Again, it's one of my passions."
White concurred, explaining that he still participates in the festival even though he is no longer employed by Slim's or the music hall.
"It was definitely a camaraderie that I felt because after you do that sort of experience for eight years, for that long and that intense, you sort of build that type of relationship," White said.
Nelson, who describes his role in the festival as being "the biggest fan," said that Warren's vision has become a San Franciscan staple. As co-founder of the festival, Nelson said that the experience that Hellman created for the team and for the public has had so much integrity.
"It's something that's rare," Nelson declared. "It's almost like (Hellman's) love letter to San Francisco."
SF State students agree that the community and experience of the festival are one of a kind.
"Free music in the park is a combination of feelings and intensity," Anna Ruby, a 19-year-old biology major, said. "It's exciting and I'm dying to hear some bluegrass."
Nelson explained that the festival appeals to people of all walks of life and that there is no target audience, admitting that he himself sometimes doesn't know the artists until their performance.
"Americana music appeals to a lot of people and people underestimate it. 'Oh, it's bluegrass.' No, it's Hardly Strictly Bluegrass," Nelson said.
The festival debuted in 2001 as Strictly Bluegrass at Speedway Meadows in Golden Gate Park with only two stages that hosted acts such as Emmylou Harris and Hazel Dickens. In it's second year, the festival expanded adding a third stage and more musicians to accompany the returning favorites. The following year, Strictly Bluegrass had enough artists to stretch three days
In 2004 the title changed to Hardly Strictly Bluegrass and expanded to a four stage festival welcoming a wider variety of acts to it's stages. Adding another stage in the 5th year, the festival has steadily increased in popularity. In 2009, the Bluegrass Festival was able to add yet another stage, and has been a six stage concert ever since
Twelve years later, he recalls that first festival and how it was just magic. Ever since, Nelson said, there is at least one moment each year that he is awakened with the nostalgia of that initial day.
"The Hellman family is who we really need to thank," Nelson said. "They get it. We are so indebted to the Hellman family for continuing this tradition."
Khider adds that he thinks the festival is unique in it's own regard and he personally can't imagine being without it.
"It isn't about the money and there is nothing like it that I can think of anywhere near it," Khider said. "I think that it's drawn such a large audience and people are coming from all over. I actually see it expanding to different cities believe it or not."
As for White, he has moved on from the music business and has practiced law for the past two years. He came back last year for Hellman and for the reunion of friends. However, he doesn't know what his future involvement will be.
"As far as my involvement this year, that's part of it; it's the first year for everybody without Warren," White said. "The only thing that I've ever done is be Warren's shadow at this point so I'm really not sure what to expect. I can't anticipate how it's going to be different, emotionally."