[HTML2]
See "Bicycle routes to SF State"
---
Julie McNamara packs her 12-hour day into her Rickshaw commuter bag before leaving home.
The 21-year-old SF State graduating senior is not only double-majoring in English and Spanish, she works part-time teaching English as a second language at Marshall Elementary School in the Mission — and she also nannies on the side.
With such a hectic schedule, McNamara needed to find the mode of transportation that most suited her.
"I feel like I take a little bit of my house with me," she joked as she planned out her day. "I don't have any other place to put my stuff and I don't have a car either. Everything is just in my backpack — and me, I'm on my bike."
McNamara is one of thousands of San Franciscans who commutes by bike in the city that was named the greenest of 27 metropolitan areas in the U.S. and Canada by Siemens' Green Cities Index.
The number of cyclists in San Francisco has increased dramatically, up by 71 percent in the last five years, according to the San Francisco Municipal Transportation Agency's 2012 State of Cycling Report. In response, the SFMTA developed a draft of the Bicycle Strategy, which was published January 2013. The five-year plan aims to increase sustainable modes of transportation to 50 percent and for cycling to be 8 to 10 percent of that mode share.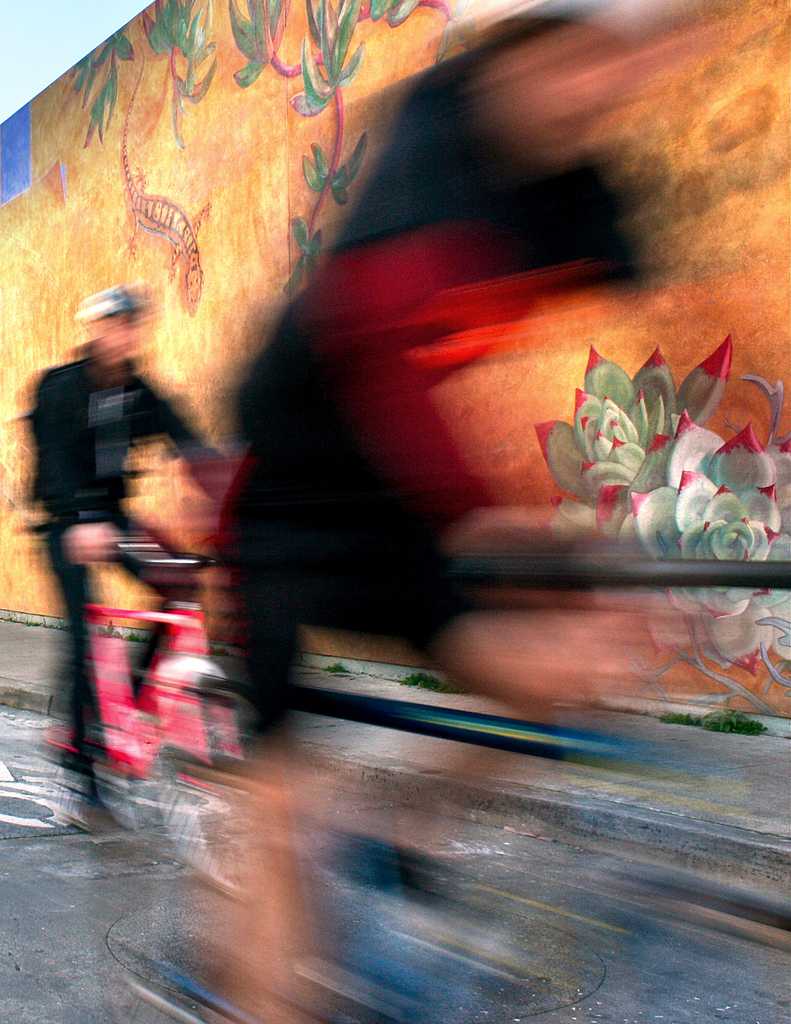 "The Bicycle Strategy was just one of the strategies presented by the SFMTA in conjunction with their new Strategic Plan," Kristin Smith, communications director of the San Francisco Bike Coalition, said. "For years, the SF Bicycle Coalition has been pushing for the city to come up with a bigger vision for the future of bicycling in San Francisco and create a road map for the future."
San Francisco trails behind Seattle, Wash. and Portland, Ore., in ridership in major cities, with Portland nominated as the second in "America's Top 50 Bike-Friendly Cities" by Bicycling.com.
Oliver Smith, Ph.D. candidate in urban studies at Portland State University, recognized cycling's popularity. His own passion for cycling and interest in "subjective well-being," a term he came across while researching topics for his dissertation, led him to conduct a study which concluded that commuting by active modes increases commute well-being which ultimately can affect a commuter's overall well-being.
"Given that so many people seem to enjoy biking — including myself — and get frustrated with driving, measuring differences in well-being among different commuting scenarios seemed important," he said. "My study confirms findings in other studies that people who bike and walk to work are the most satisfied with their commutes relative to car and transit users."
Out of the 828 valid responses to web-based surveys, it was concluded that cyclists had a "commute-well being" three times higher than that of motorists. The survey measured factors such as stress, arrival time, excitement, pleasure and ease of trip to calculate "commute happiness."
Although cycling is popular in San Francisco, Oliver Smith suggests that his findings may not be applicable to San Francisco due to its size and "extensive transit system."
"Similar findings may or may not be found in other cities like San Francisco. Portland is a relatively small city, with a unique culture and transportation network, including well-developed bikeways," he said.
In San Francisco, the condition of bikeways seems to be a significant problem.
"I try to stay off Market, it's pretty sketchy sometimes," Ryan Primas, bike commuter, said. He argued that the majority of bike lanes are not up to par and that more are needed."They're not cleaned up. I pop plenty of tires. There's broken glass. They need a lot of work."
Much like Primas, commuter Eric Gasman relies on his bike for transportation but safety concerns him.
"Downtown I don't touch," Gasman said. "It's too busy, there's pot holes — a lot of dangerous stuff."
Despite the fact that conditions in high traffic areas may not be at their best, cyclists are still growing in San Francisco and it is becoming a part of being a progressive society, according to Kristin Smith.
"The number of people biking in San Francisco has increased a dramatic 71 percent in the last five years, despite only .46 percent of SFMTA's capital budget being spent on bicycling," Kristin Smith said. "Imagine what could be achieved if the city made a real investment in bicycling."
McNamara experienced struggles in commuting by bike but like many others in San Francisco, she quickly fell in love with the urban sport.
"The more constantly I ride the stronger I feel," she said. "I enjoy the challenge. I love the thrill of speeding down a hill and charging up one. It's really exciting, especially on a nice day around San Francisco."
McNamara considered her options when deciding whether or not to commit to bicycle commuting. In the end she decided that the benefit outweighed the cost.
"I feel good doing it," she said. "It's fun to see the city this way. I feel like sometimes I see more things. San Francisco is beautiful.When you come to the top of a hill and you see an incredible view of the city. It's just so easy to find hidden gems around the city on a bicycle."
---
Bicycle routes to SF State
Find your starting point
Click starting point for directions on the quickest bike route to the SF State campus
[HTML1]
---