Graduate to empower Afghan kids through skateboarding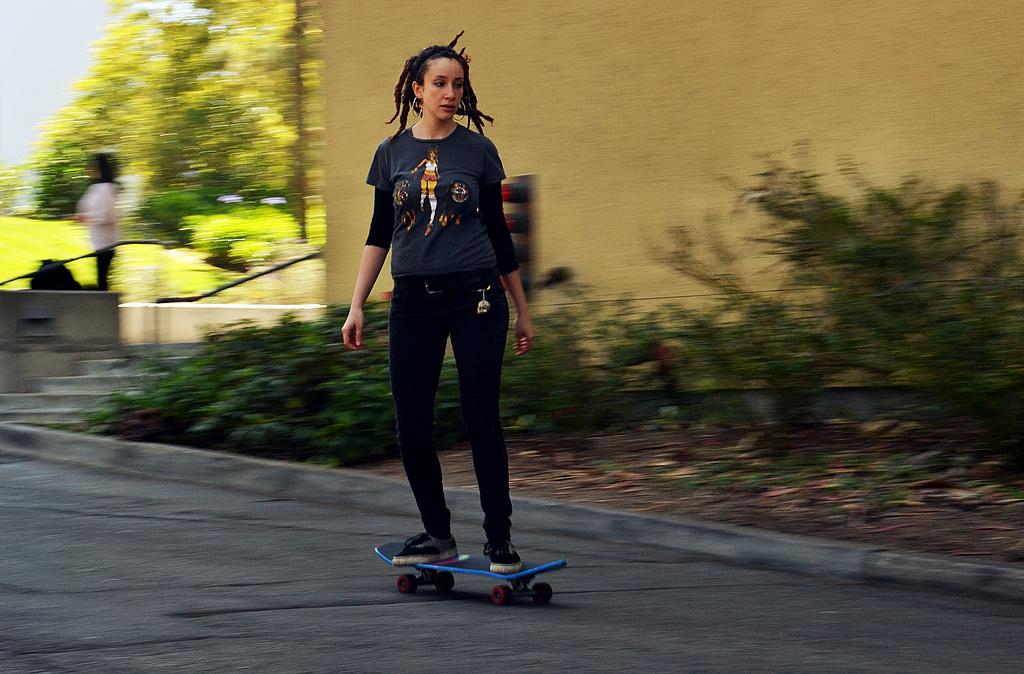 Leila Mzali was online searching for an image of a girl on a skateboard when she stumbled upon a picture of an Afghan girl skateboarding.
She clicked the photograph and was redirected to a site titled "Skateistan," a non-governmental organization used to help empower Afghan girls and children working on the streets through education — and skateboarding. Mzali was instantly intrigued.
"As a woman who's been very empowered by my own journey with skateboarding I know how valuable the tool of skateboarding could be," Mzali, 22, said. "But I also know kids from situations like that have the most potential to make a change. So to have the ability to go over there and be given the opportunity to go work with these kids and to help them with their journeys and make a difference in their lives is pretty much the most rewarding thing I can think of."
Originally her interest was in fundraising for the organization but when she navigated the site she realized she qualified to volunteer overseas.
In a 2011 survey conducted by Bob Adams, CEO of America Wave, about 3.8 percent of 18 to 34 year olds planned to relocate out of the U.S.
Mzali is a part of a minority who are actually leaving to work abroad after graduation. In three weeks, the philosophy and religion major will work for a cause she feels very strongly about. Mzali will be traveling to Afghanistan to participate in a five-month internship program assisting Skateistan's education curriculum.
Since April, Mzali has spent her time fundraising money to pay for some of her expenses. Through a website called GoFundMe.com and some gracious donors, she was able to raise $1,700 for her trip so far despite her family's lack of monetary assistance or initial support.
"I think both of our reactions were 'Oh no you're not!'" Joey Mayer, Mzali's mother said when she first heard of her daughter's interest in moving to Afghanistan. "There's no way you're going and then we had to realize she is an adult. She is really very committed and had very good arguments in favor of what she was doing, none of which reduces the danger or anything but convinced me that she understands the danger and she is still willing to go ahead and do it. So she has my full support."
Mzali's parents have always been protective of her, especially her father, Slim Mzali, she said. It was not until the age of 18 she started skateboarding. Her father forbade her from it throughout her adolescence fearing that she would get hurt. As much as he supports her choice to partake in Skateistan, he still worries for her well-being.
According to Maziar Behrooz, an associate professor in the history department who specialized in the middle east and islamic studies, Slim Mzali and Joey Mayer have a little less to worry about when it comes to their daughter's safety while abroad in Kabul, the capital and largest city in Afghanistan located on the eastern part of the country.
"Afghanistan is in a state of civil war and that is no small thing. The war however is low intensity and concentrated mostly in the south and southeast of the country," Behrooz said. "So, if the passenger is going to Kabul and will be basically staying there, things should be safe."
Mzali has her own fears about her safety but stays optimistic and continues to crave the opportunity to be a part of something she truly desires.
"I have security concerns going to a war-torn country. I'm aware of the political situation in Afghanistan both historically and currently. But the pros outweigh the cons. It's definitely scary, stuff happens there every day but, hey, in San Francisco stuff happens here every day too," Mzali said. "You never grow staying in your comfort zone and you just have to go balls to the walls. Once you're on that plane it's too late to turn back and if you challenge yourself then you come to find you can accomplish more than you thought you ever could."
Leave a Comment