SF State's Voice competition begins with blind auditions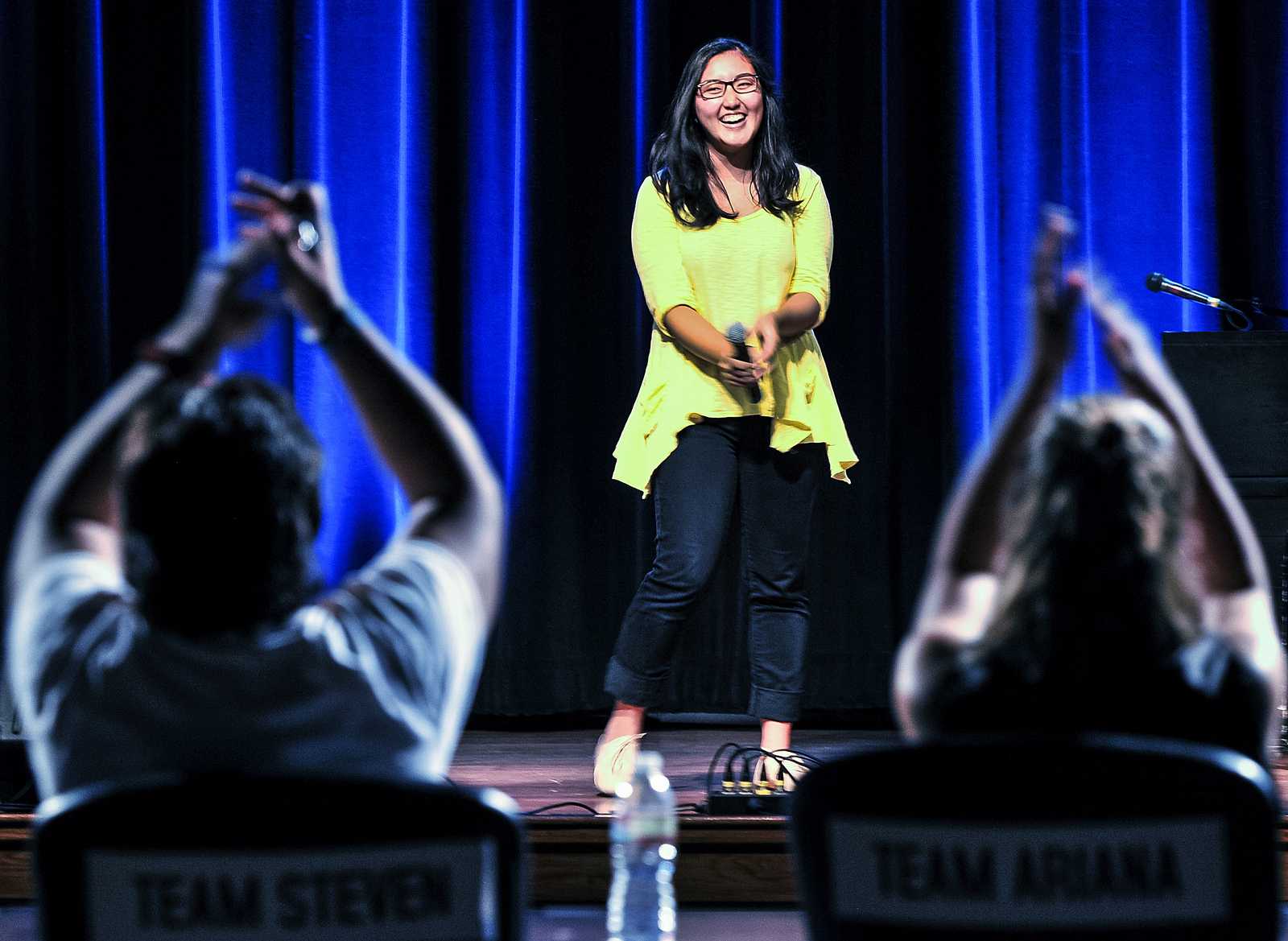 The set in Jack Adams Hall may not have been an exact replica of the major Hollywood production, but the talent on display during the blind auditions round at SF State's Voice competition showed that there are stars in our midst.
The Student Life Activities Board hosted the University's take on NBC's popular competition, The Voice, Wednesday Oct. 2. The contest originated on campus last year when Student Life combined the abundance of student talent with the premise of the popular televised singing competition. After last year's SF State's Voice had strong interest and a large turnout for auditions, Student Life decided to continue the competition for a second year.
The blind audition round is the first of the three-round event. Participants in the blind auditions chose one song to perform for a panel of four judges, whose backs were turned to judge the competitors based solely on talent.
"The blind audition is strictly you showcasing your voice," said Christa Laosantos, one of four judges as well as a contestant and runner-up from last year's competition. "We don't know how you look or anything like that, we just know how you present yourself."
Judges were selected by their musical background and regular appearances in other SF State performances. They used their musical proficiencies to guide their judgement, they were allowed to choose four members for their teams, with three being initially selected and one being chosen in the wild card round.
While Steven Alvarez's work as a progressive house producer may not be the genre most people associate with stand-out vocal performances, the judge was confident and excited about his ability to handle a team of talented vocalists.
"I kinda look for people who can follow melodically, and have good vocal flow," Alvarez said. "Anybody that can hold a note and doesn't hesitate either. That's a big thing, you can't have somebody who hesitates all the time on stage."
But even with the judges aware of the scrutiny they must apply with their picks, first contestant of the night Jacqueline Corona's powerful performance of "If I Ain't Got You" by Alicia Keys left judge Ariana Tibi with no choice but to use the first pick of the contest.
"I was nervous. I've never really gone first," said Corona, 19, music major at SF State who also took part in last year's competition. "I'm always in like the middle or the end. It was fun."
Nicole Joline Gabel, whose deeply soulful performance stirred the crowd into a thunderous applause and left all four judges fighting to draft her, delivered another powerful performance of the night.
"It was awesome, because I was really nervous and I thought that I messed up," Gabel said. "But I obviously pleased the crowd and I did what I wanted to do, so when they turned around I was just like 'Oh god, this is awesome.'"
Gabel is no stranger to these types of competitions. Her singing career began at age four, and since then Gabel has performed in competitions such as iPOP!, an international presentation of performers hosted in Los Angeles; she finished as the runner up among thousands of other contestants. Gabel also auditioned for the X-Factor, as well as the real Voice on NBC.
While some contestants showcased just their vocal ability, others, like Yannick Bratschneider, 19, accompanied their vocal performance with their instrumental prowess.
The German-born Bratschneider performed an acoustic cover of German artist Philipp Poisel entirely in his native language. Even in this foreign tongue, he still managed to peak interest from the judges.
"I was hoping they would dig it," Bratschneider said. "I looked up and saw two people turned around already, and I didn't know whether that was because they had already chosen everyone or because they had already turned around. But I didn't look back after that, I just wanted to play."
The next step for contestants looking to be crowned with the SF State Voice 2013 title is the battle round, where the coaches pair contestants of their own team together to perform a duet, after which, one person from each duo will be eliminated. This event will be held in Jack Adams Hall Wed., Oct. 16, starting at 7 p.m.
Students can vote for their favorite contestants online by following the link posted on either the Student Life Facebook or Student Life website.
Leave a Comment