[set_id=72157640398735734]
The Cesar Chavez Student Center's Art Gallery's latest exhibit shows how peace, love and some revolutionary vibes shaped the 1960s civil rights movement in the Bay Area and at SF State.

In honor of February's Black History Month, the gallery will present its reception for "Black Power, Flower Power" from 5-8 p.m. Thursday, Feb. 6. The photo exhibit showcases the works of husband and wife artists Pirkle Jones and Ruth-Marion Baruch in a collaboration illustrating the Black Panther Party and San Francisco during the 60s. Baruch's collection, titled "Haight-Ashbury, 1967," depicts the district's culture, full of anti-war attitudes and flower-wearing residents.
The main collection, titled "Black Panthers, 1968," provides a look into the party's history with the Bay Area. The Black Panthers were a progressive political organization known for its use of weapons and radical tendencies, but this was only its outer appearance, according to Associate Professor of Africana Studies, Serie Mcdougal.
"It was more of an organization about power and self-determination," Mcdougal said. "More so than self-defense. That was only one aspect about the party."
According to the San Francisco State College Strike Collection, group members spread their Malcolm X-inspired agendas to the University in events that led to the 1968 student strike. One such member was George Mason Murray, a Black Panther member and English instructor who was suspended by order of then-Chancellor Glenn Dumke, after allegedly saying threatening remarks at a rally and on campus.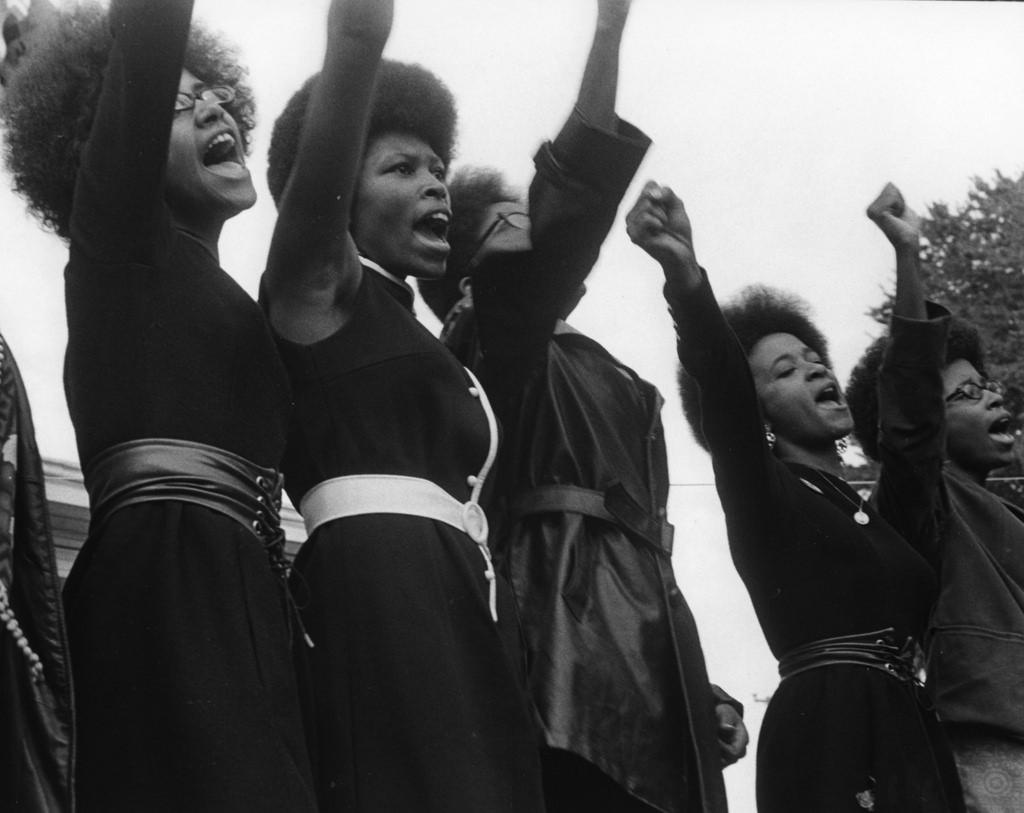 © 2011 Pirkle Jones Foundation | Black Panthers from Sacramento, Free Huey Rally DeFremery Park, Oakland, California, August 25, 1968 by Pirkle Jones / Special to Xpress
Led by what became the first Black Student Union, students formed demonstrations and sit-ins in administrators' offices to fight for the reinstatement of Murray and to protest against the unfair treatment of minority students. "His firing inspired students and it inspired the faculty to become more involved than they were already," Mcdougal said.
In collaboration with the gallery's exhibit, the Richard Oakes Multicultural Center will host various events during the day, including live music and an interactive art project. It will also present a screening of the film "Slavery by Another Name," which explores why slavery did not end with the Emancipation Proclamation. An open discussion with former Black Panther Party Chairman Elaine Brown will follow the film.
The discussion is part of the "Created Equals Series," which Interim Program Development Officer Francine Shakir said allows the center, through the use of a grant, to provide film screenings on topics such as civil rights, racism and social justice.
Shakir said the center chose Brown to speak because of her experiences in the party, but for her present work as well. "She still works very actively in campaigns and initiatives to change the school to prison pipeline and free political prisoners who have gotten unfair treatment," Shakir said. "She understands that system so well that we thought that she would be an excellent speaker for this particular topic."
Gallery Manager and Curator Carolyn Ho said she is looking forward to students and faculty viewing the exhibit and learning something new about an organization so significant to the Bay Area.
"I hope that someone goes into the show and understands that the Black Panthers weren't strictly and stereotypically active with machetes and all wear military uniforms," she said. "They were actually a community organization. They were really about taking care of one another."