Classical musician stars play at Knuth Hall
[set_id=72157640601508315]
On Wednesday afternoon, while most students were in class, Knuth Hall reverberated with the sound of classical music, as violinist Jassen Todorov and pianist Adrian Borcea performed several of Mozart's sonatas.
The room erupted in applause as Todorov and Borcea walked onto the low, wooden stage and took their positions. The audience then fell silent as they waited for the show to begin. Borcea's page-turner flipped his sheet music as his fingers began to graze across the piano keys while Todorov's violin bow glided over the strings of his instrument.
Todorov grew up around music in Bulgaria. His father was a violinist and his mother was a pianist. He first picked up the violin when he was five years old and said he has been playing nearly every day for the past 34 years.
"Music is not easy," he said. "It's (both) an ongoing frustration and pleasure."
The violinist came to America in 1992 when he was offered a full scholarship to Idyllwild Arts Academy in Southern California. Todorov describes it as "very picturesque, but a bit like a jail." Despite this isolation, Todorov said it allowed him to rigorously study and play music.
Upon graduating high school, he went to Harid Conservatory in Boca Raton, Fla. for his bachelor's degree in violin performance and received his master's degree from Eastman School of Music in Rochester, N.Y. He worked as a teaching assistant in New York from 2000 to 2003, but recalls falling in love with San Francisco when he visited the city while attending Idyllwild Arts Academy.
He has been teaching violin at SF State since August 2003.
"Who knew that 11 years later, I'd be moving here?" he said. "One of my dreams was fulfilled."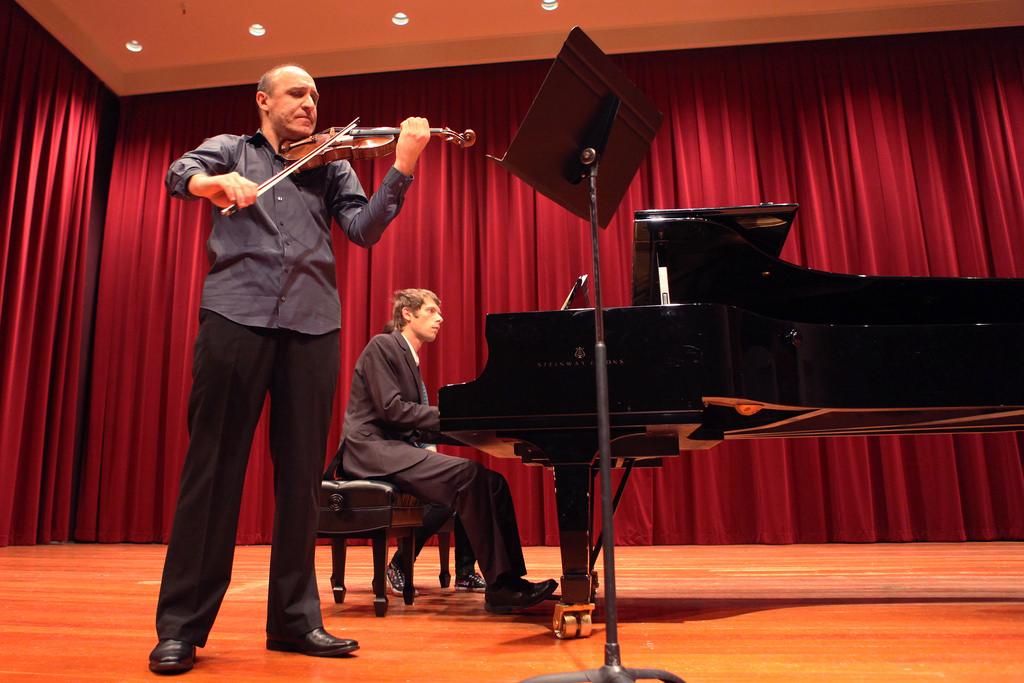 Associate Professor Jassen Todorv and graduate student Adrian Borcea play three of Mozart's Sonatas on violin and piano in Knuth Hall Wednesday, Feb. 5. Photo by Lorisa Salvatin / Xpress
Having performed all over the world, Todorov said he enjoys playing at SF State because of the warm, friendly atmosphere. "I like playing for students, faculty, peers… for people who come with all the best intentions," said the musician. "It's feels like home here."
This is the third performance Todorov and Borcea have done together, the first of which was last semester. They met when Borcea took a class with the violinist and Todorov recognized his talent, said the musicians.
Borcea, 30, began playing piano when he was five and is currently finishing his master's degree in music at SF State. He moved to the U.S. from Romania in 2000 and began studying at the San Francisco Conservatory of Music in 2002. He transferred to SF State two years later.
"(Learning an instrument is) difficult in the beginning," he said. "You feel like you're not making any progress. But if you stick with it and invest the time, you can go somewhere."
Performing in front of an audience is both nerve-wracking and gratifying, the pianist said.
"It's pretty cool when we have a lot of people and everybody's quiet and paying attention to you," said Borcea. "It also makes you kind of nervous. You don't necessarily enjoy it, but afterwards you realize those tension moments are some of the best moments, as well."
"It's amazing how two instruments can fill a room with sound without any equalization," said Steven Mortimer, who has been studying music at San Francisco State for two and a half years.
Borcea and Todorov said they eventually hope to record all of Mozart's sonatas together and produce several albums. Borcea's ultimate goal, however, is to teach music at a university.
"As musicians, we have all sorts of dreams," Borcea said. "But there comes a time to wake up to reality and get a job that will pay the bills."
Leave a Comment