Pride Prom celebrates diversity of SF State
[set_id=72157641718422053]
The dance carried the air of a high school prom. Streamers and glittery tassels flowed on the ceiling each time a new group arrived. There were refreshments, a backdrop for classic prom-styled photos and even a conga line. Couples awkwardly danced to slow songs as their fears of being judged for their sexual preferences faded away.
On Friday night, the Cesar Chavez Student Center stopped slinging burritos and coffee, hosting student organizations and flipping textbooks for the evening. For the fourth consecutive year, as it was transformed into a nightclub and hosted a dance party that celebrates the diverse student body at SF State. Student Life's Pride Prom is becoming an SF State tradition said the Dean of Student Affairs, Joseph Greenwell.
"Pride Prom is the prom that the LGBTQQIAAP students may not have been able to comfortably participate in during high school," said Greenwell.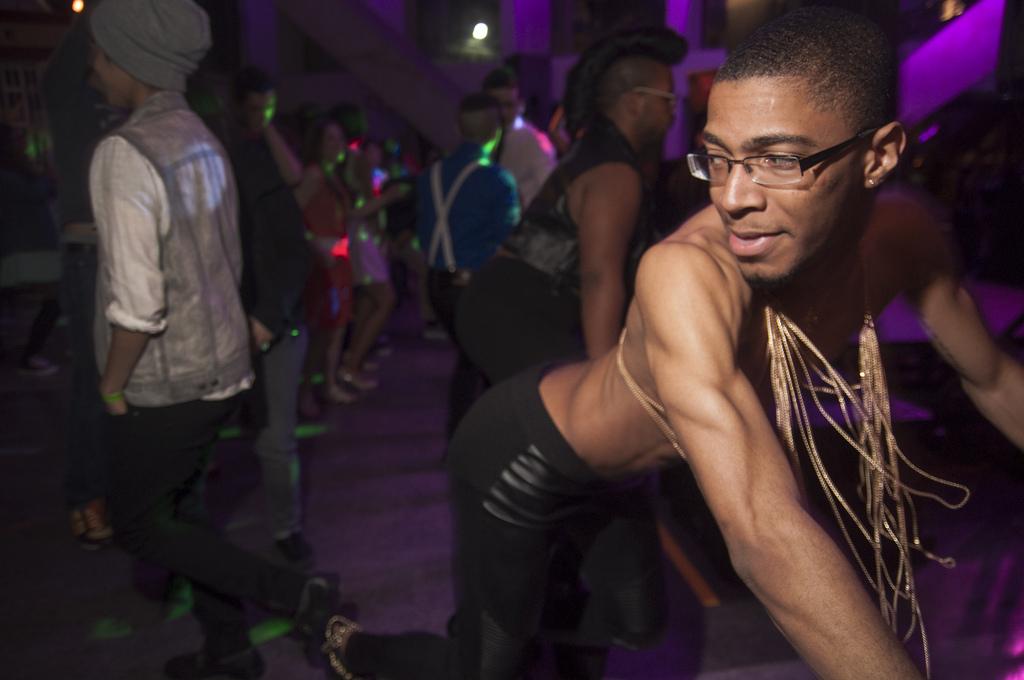 Robert Gilbert dances on a speaker during SF State's Pride Prom in Cesar Chavez Student Center Friday, Feb. 28. Photo by Jessica Christian / Xpress
Pablo Ramirez, who was on Pride Prom's founding committee in 2011, said that the dance is just that.
"I've had people come up to me and say that they've never felt so accepted," said Ramirez. "To me, sometimes, it's just a dance. But for some people it really means the world."
Ramirez said that the unlike a high school prom, attendees are encouraged to wear whatever gender-bending clothes they feel inclined to, bring whoever they want and to simply have fun in a safe environment.
This year students were encouraged to pull out all the stops and attend the dance in their finest vintage attire. The theme this year, selected by Ramirez, was "Back to Basics."
Students responded with a slew of skinny ties, long evening gloves, vintage flower power attire, gold chains and a whole lot of leather.
"It was a great experience. It allowed me to break out of my shell and meet new people," said Joe Padilla, a graduate of business management.
"Last year's attendance was slim," said Ramirez. "So this year I proposed that we just take it back to basics, and it pretty much carried itself from there."
In previous years, Ramirez has coordinated much of the dance on his own, but this year he said that his leadership team is playing a much bigger role and that SF State's faculty was much more helpful his fourth time around.
"I was able to just go up to Sarah (Bauer, director of student life) and other members of student life and ask for what I wanted," he said. "It was much easier this year because I've been doing it for so long."
Similar to the Noise Complaint dances, the event was open to all SF State students and a preregistered guest.
[set_id=72157641842673374]
Leave a Comment