VIDEO Branding the golden city: alumni create print and clothing company San Franpsycho
[HTML1]
San Franpsycho, the brainchild of Andy Olive and Christian Routzen, was first born into the culture of riding waves. The clothing brand is now making waves throughout the city and beyond.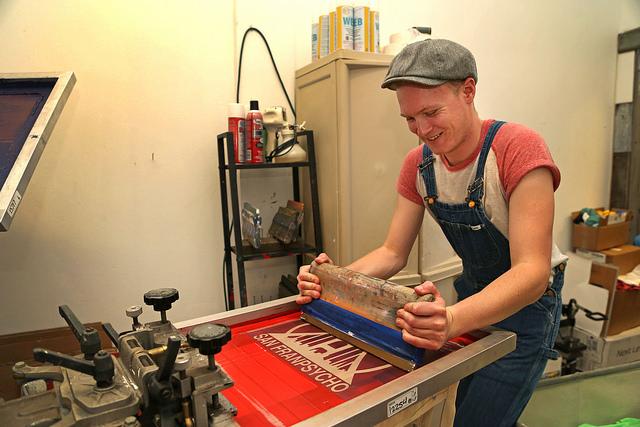 San Franpsycho is a lifestyle brand that is as diverse as the city that started it all. The West Coast's answer to Zoo York, San Franpsycho embodies the creative, fast-paced lifestyle of San Francisco. The brand began more than a decade ago when Routzen was studying cinema at SF State. He made a film titled "San Franpsycho" that documented what it was like to be young and carefree in the city of San Francisco.
"We were doing the same things we were doing all the time, only there was a camera for everything," said Routzen. "We took a camera on the bus, took a camera to the bars… all of us just chillin' out, hangin'… or (wet) suitin' up ready to go out to the water. Eventually, you just catch crazy stuff that's happening in your surroundings."
Olive, who was featured in the film and its sequel, "San Franpsycho: Wet and Reckless," met Routzen through the surfing community. He not only shared Routzen's love for the beaches of SF, but the rest of the city and the lifestyle surrounding it.
"People are really drawn automatically to the behind the scenes of peoples' lives, and we were putting that out there, " Olive said. "We were just kind of documenting it and trying to turn those everyday activities into as much fun as possible."
Olive and Routzen's restless ambition, unbridled creativity and obvious love for the city caused San Franpsycho to ultimately evolve into something much bigger. Routzen said they continued to brand the name, and at one point a fan mentioned that they would like to wear their clothing. "We said to ourselves, 'Clothing? Yeah…we should think about that,'" he said.
They took the idea and ran with it. They began live screenprinting at parties and bars and traversed the city in a big, colorful van, continuing to market the brand. They became a staple at local music festivals and events, and their three current storefronts – in both the Outer and Inner Sunset and on Divisadero Street – are now a staple of San Francisco.
"Jumping off a cliff into the fog"–that's how Olive described realizing that San Franpsycho was taking off and turning it into a full-time gig: Uncertain, scary, but ultimately exciting.
"All of a sudden we went from printing one box of shirts to printing four, then ten, and it just kind of grew, like under our feet, you know sitting in the tree that was already planted and just kept growing. Then the day we quit our jobs, we were like 'Ok, this is getting big,'" he said. "'It's not just a craft anymore, what we're doing is becoming like our profession."
Routzen described it as "having part-time jobs, building a full-time dream." Although it was a huge risk quitting their jobs to place their focus on the company, they were having a good time doing it.
"In retrospect, that probably was one of the best ways we could've looked at business at that time, doing it to have fun, grow it (and) see what happens," he said. "And it doesn't become much of a risk because you're doing it for the fun and the love of it."
San Franpsycho screenprints their products right in their store on Noriega and 45th. The simplicity of their logo and range of products offers something for everyone. It's not an esoteric surfer brand, but an all-encompassing company that caters to all SF residents as well as people from across the globe. San Franpsycho also collaborates with local artists to blend creativity and community.
"The logo itself is just really simple and that's kind of a big part of why its so popular because its really relatable," said Maddie Knowles, head of Online Orders & Inventory at the Divisadero location. "I think it also has a lot to do with Andy and Christian's presence themselves. I feel like if San Franpsycho wasn't on (Noriega) Street, there would definitely be less of a sense of community on this block."
"The community stuff, like bringing in different artists and bringing in music, works really well to their advantage," said Kelly Reddy-Best, assistant professor of apparel design and merchandising at SF State. "It gets everybody involved (and) shows that they're committed to the community and giving back. They're not just developing these garments to make money, they're really bringing in this whole new attitude, this whole environment of giving back and bringing people together."
Though Olive and Routzen are a little less "wet and reckless" than they were as college kids, they don't plan on slowing down anytime soon.
"The future of San Franpsycho is outer space," said Routzen. "(We plan on) continuing to work with a lot more people in music, art, in some of the clothing industry, but maybe focusing more on how (the brand) can affect our community in general."
Leave a Comment