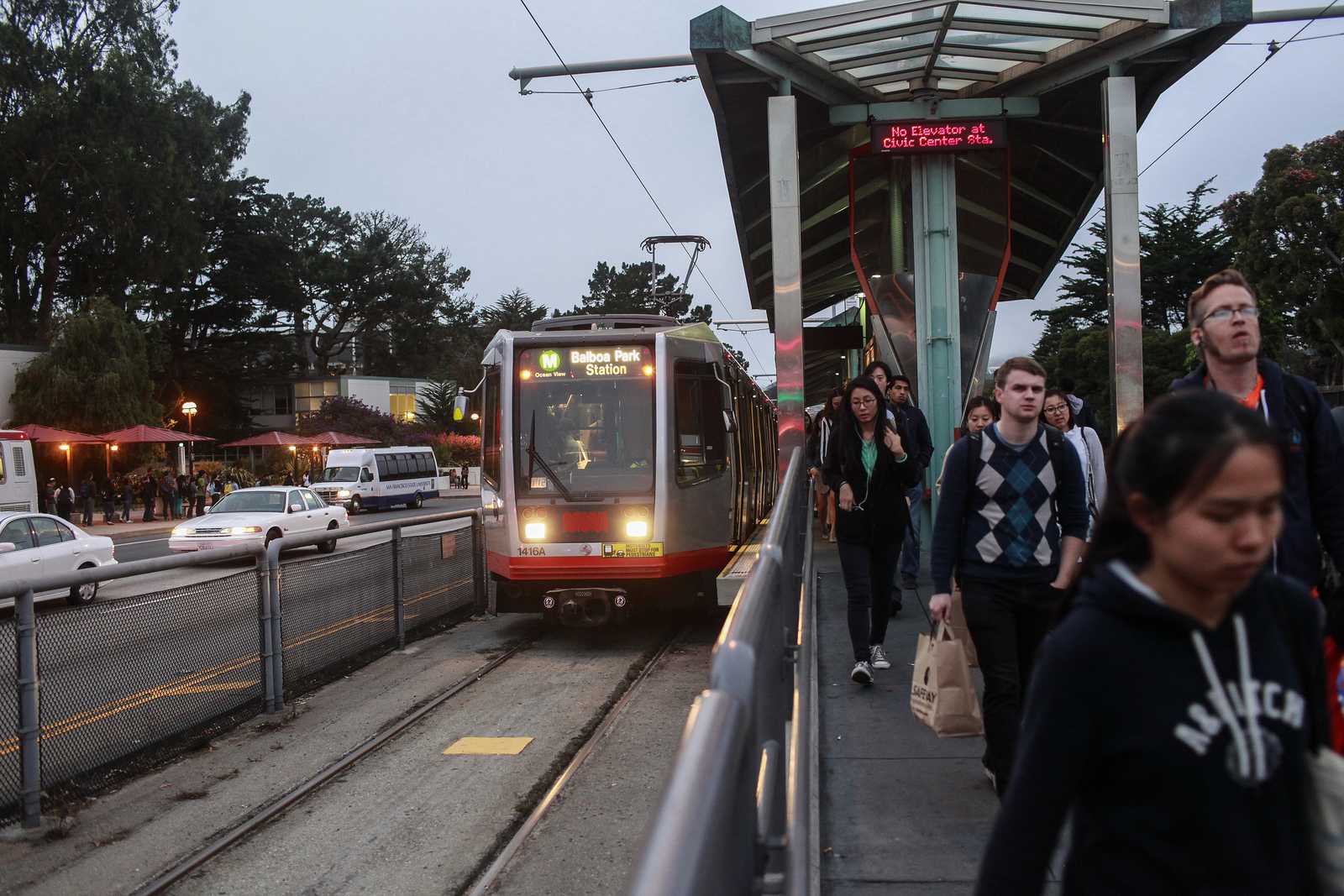 The San Francisco County Transportation Authority (SFCTA) proposed the elimination of parking spaces along 19th Avenue to make room for a new M-Ocean View Muni line that would run underground through Parkmerced, during a meeting Tuesday, Sept. 23.
Two conceptual designs, revealed by the San Francisco County Transportation Authority (SFCTA), would each run the M-Ocean View line underground from St. Francis Circle to Stonestown Galleria and possibly extend to Daly City BART, replacing the current M-Ocean View Muni line when finished.
Some attendees, like environmental studies major Anthony Serna, are concerned about the proposed elimination of 19th Avenue parking, and the impact on students who already struggle to find parking in residential areas.
"It all seems like a good idea and seems more efficient, but parking is more of an issue," said Serna. "If people took Muni and there's safer biking, parking isn't the issue."
The SFCTA has until July 2018 to finalize the M-Ocean View route through the area, under the Parkmerced Development Agreement. Caltrans is funding most of the project, but SF State has designated $1.8 million and Parkmerced, $70 million, respectively.
"For SF State to pay only $2 million seems like a drop in the bucket," said Aaron Goodman, architect and previous Parkmerced resident. "The bigger impact on the district is SF State."
The 19th Avenue transit planners deemed the first option — a longer subway and bridge design as the most effective, saving $2 million per year in operating costs and running 35 to 45 percent faster.
The second option — a shorter subway and tunnel, saving $90 million, would return the M line to street level at Buckingham Way instead of continuing to run the northbound line underground until it reaches Parkmerced. The tunnel, however, would cost $160 million more than the bridge.
Miguel Guerrero, Associated Students, Inc. health and social sciences representative, was also concerned about the 19th Avenue design plan.
"To decrease the parking demand, we have to make sure public transportation is more affordable for students," he said.
The commute could get easier for students taking BART, with the proposed extension of the M line on a bridge to the Daly City station, costing an estimated $200 to 300 million.
The study will conclude by the end of the year and the environmental review and design are scheduled to be finished in three to four years.
"We've got so much data on why 19th Avenue is the problem it is," said Peter Albert, manager of SFMTA Urban Planning Initiatives. "We're following through on our obligation with specific requests from the community."