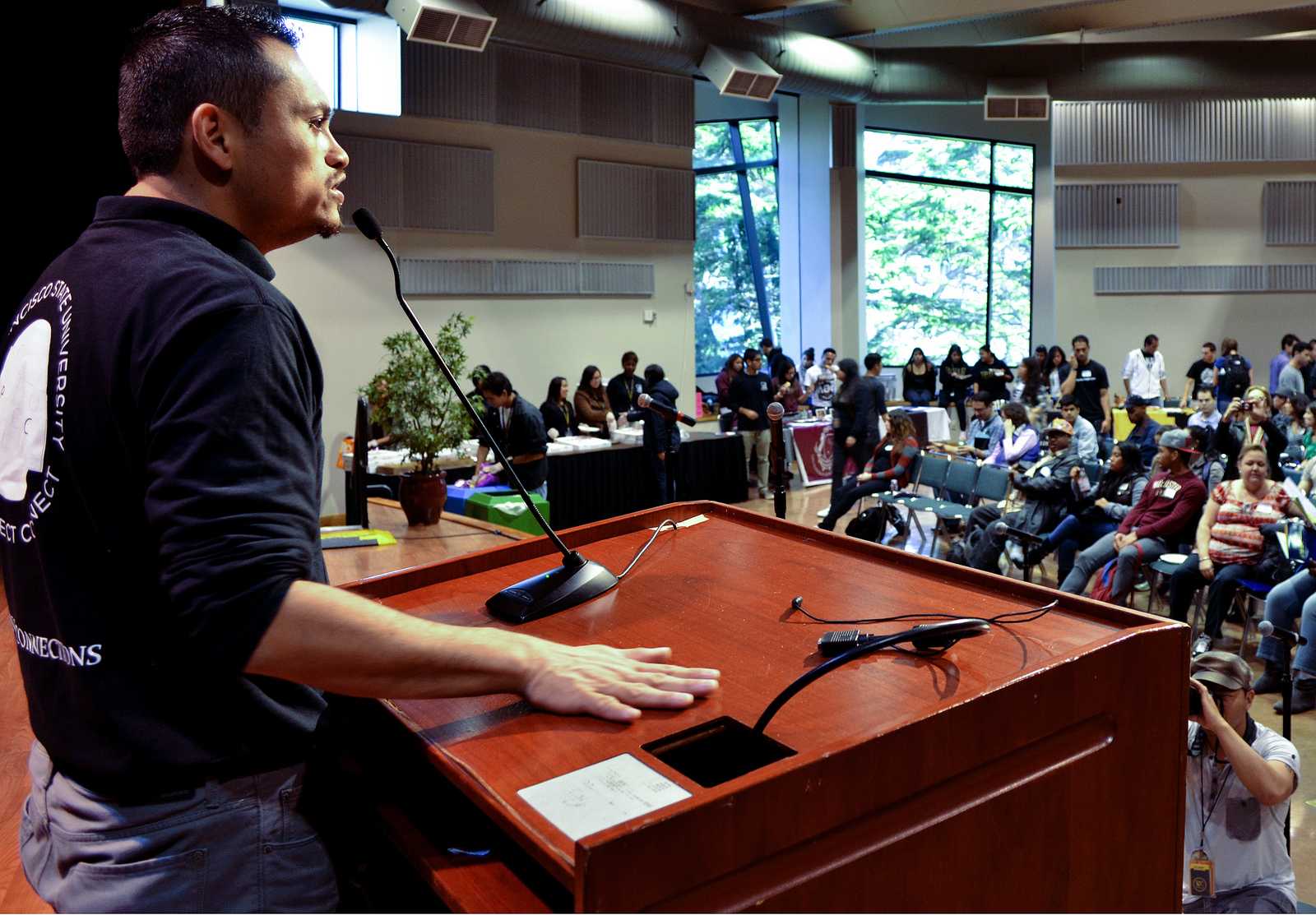 UPDATE: 11/12/13
Last Wednesday, Bay Area community college students interested in transferring to SF State gathered at the Cesar Chavez Student Center for the eighth annual Transfer Day.
Project Connect: Recruitment and Retention Resource Center, an Associated Students, Inc. program that works to promote higher education and facilitate graduation for low-income and historically under-represented communities, hosted the event to help underrepresented students understand the transfer process to SF State.
"Transfer Day is a Bay Area effort, and Project Connect's purpose is to connect students with University and student organizations and services," said Project Connect Director Mario Flores, who started program eight years ago to reach out to non-traditional, at-risk and first-generation students..
The event totaled nearly 200 interested students from local community colleges, which included Merritt College, Skyline college and City College of San Francisco.
"We are really interested in motivating people of color, low-income, and first generation students. It's about recruiting them and then helping them succeed after they're here," Flores said.
According to Jo Volkert, the vice president of student affairs/enrollment management at SF State, the highest number of SF State transfer students come from City College of San Francisco.
This past summer the Accrediting Commission for Community and Junior Colleges motioned to terminate the accreditation of City College of San Francisco after Spring 2014. This would close the school July 2014.
"We are doing everything we can to support our colleagues there (City College of San Francisco). It would definitely make an impact on SF State if they were to lose their accreditation but we aren't there yet," Volkert said.
At the event, students had the opportunity to participate in an informational fair in Jack Adams Hall from noon to 1 p.m. where they toured presentations of about 30 University and student organizations from Greek Life to ASI programs.
Pashonae Holloway, a 24-year-old Merritt College student who came to the information fair will look to apply to SF State in the next couple weeks, for Fall 2014 admission.
"I really liked the holistic health program here, that's why I'm interested," Holloway said.
Speakers at the event included ASI program members and Volkert, who welcomed the prospective students to SF State.
"SF state is a pipeline for transfer students," Volkert said.
Since Proposition 30 passed, which helped to stabilize the CSU budget, SF State is able to accept applications from freshmen and transfer students for both fall and spring semesters, Volkert said.
After the information fair, transfer students were invited to attend one or more of 12 workshops offered in areas such as tips on transferring, study abroad, financial aid or a specific major.
Adolfo Velasquez, an undergraduate academic counselor, hosted the "Tips on Transferring" workshop where students were able to learn the step-by-step transfer process, such as unit requirements, application and acceptance of offer.
"The best tip we can give you — is prepare, prepare, prepare," Velasquez said.