[set_id=72157638339215874]
Red pins exploded across campus Tuesday as SF State celebrated the 25th annual World AIDS Day with free HIV testing and presentations about getting tested, safe sex and culturally competent care.
Campus organizations including the Women's Center, Peer Educators Advocating Campus Health (PEACH), Creating Empowerment through Alcohol and Substance Abuse Education (CEASE), the Education and Referral Organization for Sexuality (EROS) and the Sexual Abuse Free Environment (SAFE) Place hosted the event attended by a small crowd of about 20.
It began with a workshop in Jack Adams Hall encouraging participants to practice safe sex and use condoms, get tested for HIV regularly and to not be afraid to ask their partners about their sexual health status.
"The disease is really prominent in minorities and my own community," said Miyuki Gomez, member of the event's planning committee and anthropology major. "A lot of people are diagnosed but are afraid to speak. I hope events like this will open that space for people."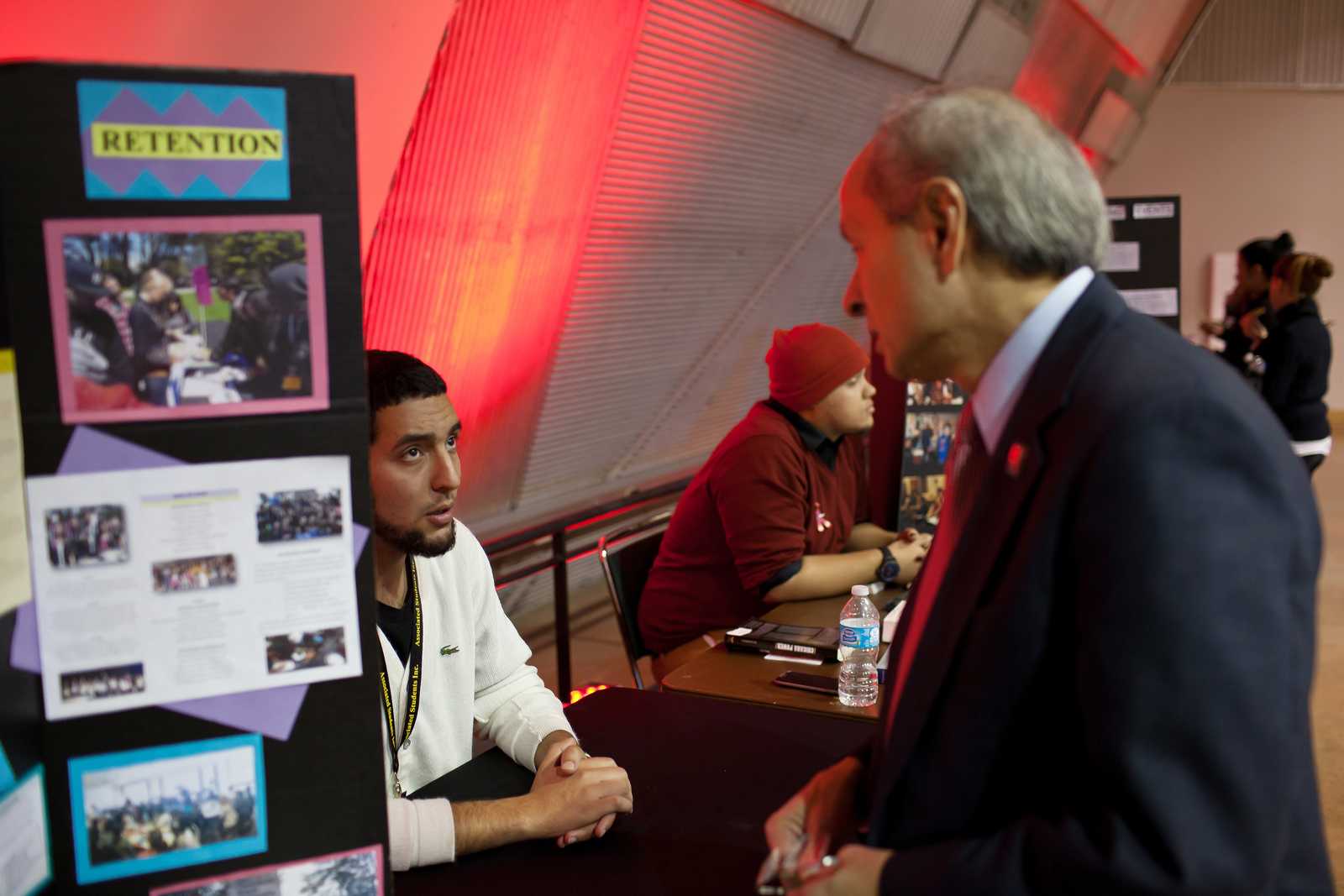 In addition to presentations and workshops, the day also included the hanging of the AIDS quilt, with the names of people affected in the SF State community sewn onto it, on the top floor of the Cesar Chavez Student Center.
Human Immunodeficiency Virus (HIV) is a disease that attacks the immune system, so the body cannot fight off infections or diseases, according to the U.S. Department of Health & Human Services' website AIDS.gov.
AIDS is the most advanced stage of HIV and occurs when the body's immune system is extremely fragile.
There are 50,000 new cases of HIV each year, according to Cynthia Gomez, director of the SF State Health Equity Institute.
Despite 13 to 24-year-olds representing 26 percent of new HIV cases each year, young people don't take the disease seriously because they don't see the atrocities that modern medicine prevents, according to Gomez.
"When I was young and I saw my friends covered in sores and dying, I was really motivated," Gomez said. "But young people today aren't seeing that."
Alpha Phi Omega and SF State's salsa club put on a short dance show for the audience before the day turned to a more serious presentation about Native Americans, mixed races and where sex and HIV intersect.
Andrew Jolivette, chair of the American Indian studies department, lectured about a study he conducted on how racial justice intersects with the transmission of HIV in Native American communities.
Jolivette, a member of the Opelousa and Atkapa-Ishak nations of southwest Louisiana, spoke about native people and other minorities who are often forgotten and at high risk for developing HIV due to the correlation between racial discrimination and infection.
President Leslie E. Wong also spoke to the small group and expressed his pride in all the students who participated in planning and developing the event.
He acknowledged the lack of students present and said he hoped that the World AIDS Day 2014 event could go "virtual" and find other ways to get students into the room.
"Everyone needs to be supportive and end the stigma against HIV," said Gomez.