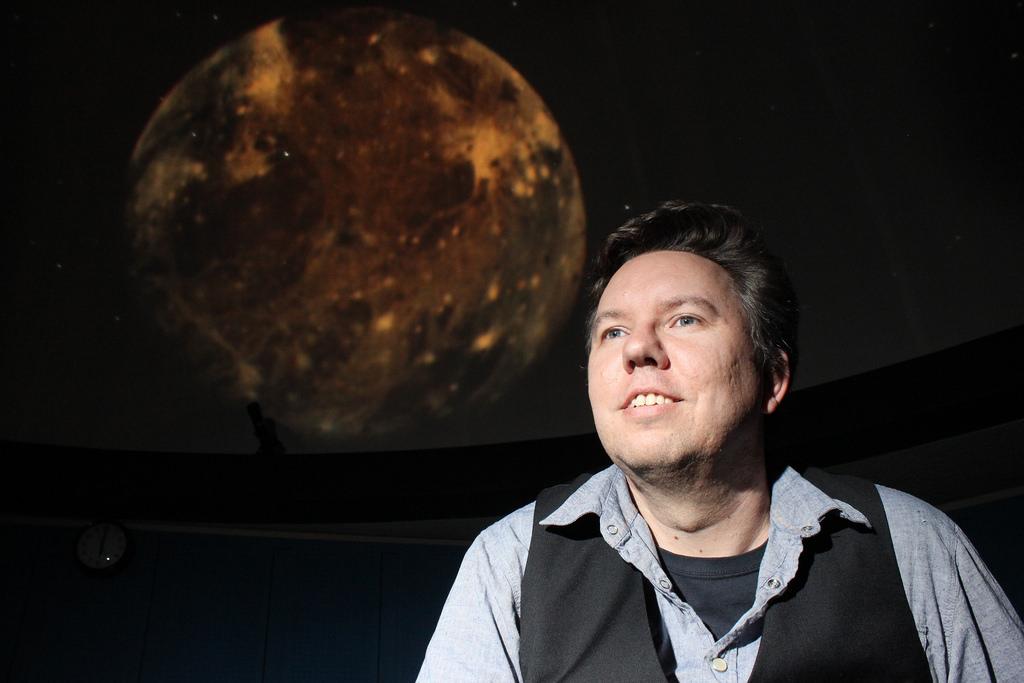 Dr. Stephen Kane, assistant professor in the physics and astronomy department, has discovered approximately 50 different planets and recently discovered an exoplanet outside of the Solar System. Photo by Tony Santos / Xpress
Dr. Stephen Kane is a collector. His obsession isn't with coins or stamps that sit on his mantle — it's with planets in space.
The SF State astronomy professor estimates he amassed a collection of 50 planets that he's discovered over the course of his 20-year career.
The latest addition to his collection is HD 4203c, an exoplanet, or a planet located outside of the Solar System. Kane discovered that it has twice the mass of Jupiter and is located 250 light years away from our Solar System.
"It's difficult looking for these planets because you have absolutely no idea what you're going to find," said Kane.
Since planets are often unable to be photographed, Kane and a team of researchers had to use a combination of indirect planet-finding techniques to determine if one of four stars they were studying contained a planet.
"You're essentially an observer with a blindfold and occasionally you get a little glimpse here and there," said Dr. Steve Howell, who helped Kane in the discovery. Howell is the project scientist on the Kepler Mission at the NASA Ames Research Center. The Kepler space telescope was launched by NASA in 2009 to discover Earth-like planets outside of the Solar System.
Planets near stars often trigger gravitational effects on their stars causing them to wobble. Kane and his research team saw this and determined that a planet may lie in one of the four stars.
The team used two techniques. One involved measuring a star's movement toward or away from earth, known as its radial velocity. The other, involved photographing the star to block out the light around it to gain a better view. From this, the researchers were able to confirm that a planet was orbiting one of the four stars.
The discovery of the exoplanet may help astronomers narrow their search for what types of stars may contain planets, Kane said.
After confirming the existence in one of the stars, the researchers will continue to gather data on the other three stars to see if they also contain planets.
"There are a lot of students excited about getting involved in exoplanets and I'm hoping that this will help them see that there are good opportunities here at SF State to pursue this kind of science," said Kane.
SF State has a history of studying exoplanets and Kane's discovery will help garner funding for the University to continue further research, according to Dr. Susan Lea, chair of the physics and astronomy department at SF State.
"It makes us feel great we have professors who do this fantastic work," said Lea.
Kane and Howell's research is funded in part by NASA, the National Science Foundation and SF State. 
The first extrasolar planet was discovered in 1992 and over the last two decades the advancement of technology has led astronomers to find more than 1,000 of them. Before exoplanets saw a meteoric rise in discoveries, astronomers spent most of their time devising ways to find them and many were even skeptical of their existence.
"No one believed in (exoplanets) or ever thought we could work on detecting them and now it's probably the largest field in astronomy," Howell said.
According to Howell, one out of every five stars in the universe has a planet the size of Earth. This leads astronomers to believe the number of potential planets waiting to be discovered is as vast as space itself.
As more exoplanets are discovered, astronomers like Kane and Howell will continue to piece together more information about this continuously developing field.
"A year from now somebody's going to make a discovery or make some new piece of technology that is going to completely change the face of the field, it's happened many times before," Kane said. "You just never know what's around the corner."