SF State hosts first Accessible Adventure Day
Students and faculty got a chance to experience some of their favorite recreational activities in a different way yesterday, at SF State's first Accessible Adventure Day.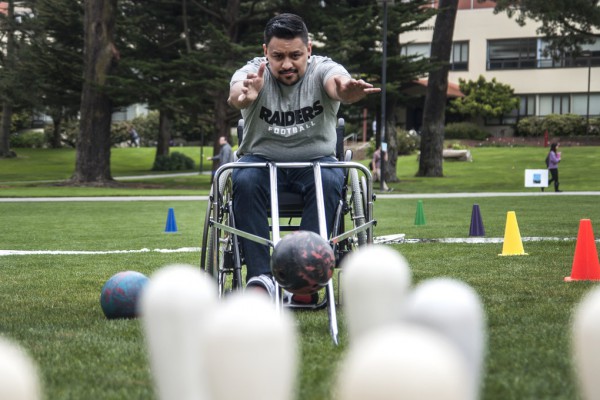 Alfredo Andrade, a kinseology major, gets a hands on experience on what it's like to be a wheelchair-user while playing accessible bowling on the lawn at Malcom X Plaza during SF State's Accessible Adventure Day Tuesday, April 15. Photo by Jessica Christian / Xpress
Accessible Adventure Day brought more than 20 community organizations and campus departments to Malcolm X Plaza Tuesday. The groups specialize in different adventure programs available to people with disabilities. At the event, the groups described the programs they offer and demonstrated their equipment.
One of the event's most prominent booths was the Bay Area Association of Disabled Sailors (BAADS), who recently partnered with the recreation parks and tourism department's sailing class to provide students who have a disability with boating opportunities on Lake Merced.
Jeff Breen, the director of BAADS, said that sailing is the only activity where people with disabilities can compete at the same level as those who are able-bodied.
"Sailing is so freeing for people with disabilities," said Breen. "We see kids with autism who can't sit still anywhere else, but there's something peculiar about being on the water: it calms them and they can spend hours out there."
Fatima Colindres, National Park Services guide, speaks with Charrisse Wells, a recreation, parks, and tourism student, about what the the parks service is doing to make their events and activities more disability accessible at the Accessible Adventure Day Tuesday, April 15. Photo by Jessica Christian / Xpress
The festivities also brought out Para0lympic Cyclist Anthony Zahn, who came from his home in Marin County. Zahn wore his Team America jacket and proudly displayed his bronze medal and bicycle he rode in the 2008 Beijing Paralympic games.
As a teenager, Zahn was diagnosed with charcot-marie-tooth, a disease that gradually weakens muscles and is concentrated in the lower legs and forearms. Zahn's condition is slowly worsening. But at 39, he continues to train for and compete in cycling championships and has won three other bronze metals.
Zahn's advice for Paralympic hopefuls is to be ready for a life-altering commitment to athleticism.
"Its more than just giving up dessert and Doritos," said Zahn. "It's skipping parties and friends' weddings to get enough sleep. It's dealing with and learning to embrace pain management."
The Campus Recreation department, the Disability Programs and Resource Center and Recreation, Parks and Tourism department collaborated to provide this free event for students.
Director of Campus Recreation, Ryan Fetzer, hopes that students and faculty leave Accessible Adventures Day with a better idea of sports and recreational activities available to them on campus and in the SF Bay Area.
"College is a time of adventure, self-exploration, and learning," said Fetzer. "It is a time to grow, make friends, and try new experiences.  It is important that we provide recreational experiences that everyone on campus can take part in and enjoy despite their ability."
Students sit on the lawn and play a game of accessible volleyball in SF State's quad near Malcom X Plaza Tuesday, April 15. Photo by Jessica Christian / Xpress
Leave a Comment