A power outage struck 13 buildings across campus Wednesday afternoon, trapping at least one former student in an elevator of the Ethnic Studies and Psychology Building and others in elevators at Thornton Hall and the Student Services Building, according to the University Police Department.
"I'm afraid the building is going to fall apart," said Estefania A. after someone freed her from the elevator of the Ethnic Studies and Psychology Building by prying the doors open. Police and an elevator technician from plant operations responded to the scene at 12:56 p.m., and checked all other building on campus.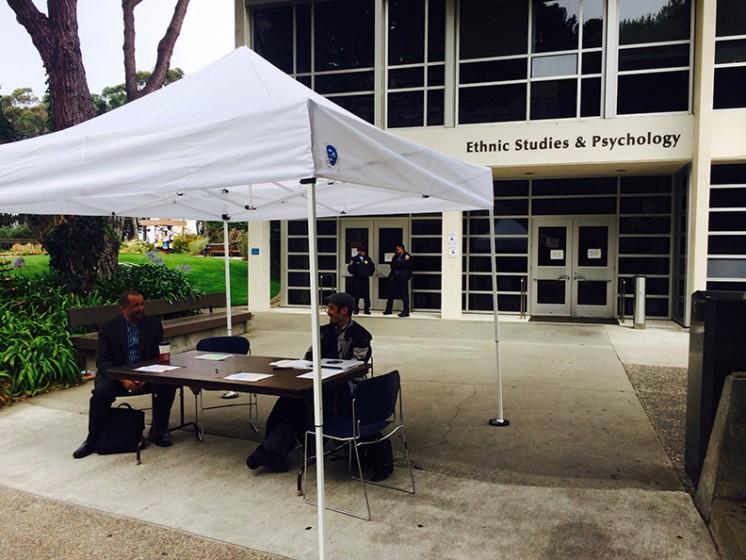 The outage, caused by a water leak that closed the Ethnic Studies and Psychology Building, prompted officials to relocate classes Thursday.
Administration made class information available for students and faculty at an information canopy in front of the affected building and online.
"We wanted to take an extra step for those students who hadn't read their e-mail or read the SF State News," said campus spokesperson Ellen Griffin.
Kinesiology major Warren D'aouza had 15 minutes to get to class, but had to stop by the canopy for class information.
"I didn't have time to read my e-mail today," said D'aouza, who said he was aware of the power outage, but expected that the situation would be resolved by Thursday.
Last December, a partial power outage in Lot 20 prompted the University to provide free parking for the campus community.
The Ethnic Studies and Psychology Building is expected to be reopened on Tuesday, according to Griffin.