President Wong unveils aggressive Gator mascot
President Leslie E. Wong surprised the SF State community Monday with the introduction of a refined mascot, contradicting earlier plans to retire the Gator altogether.
"I'm proud to proclaim that the Gator lives," announced Wong at Jack Adams Hall, where students Jazmine Williams and Udon Osakue helped reveal the logo.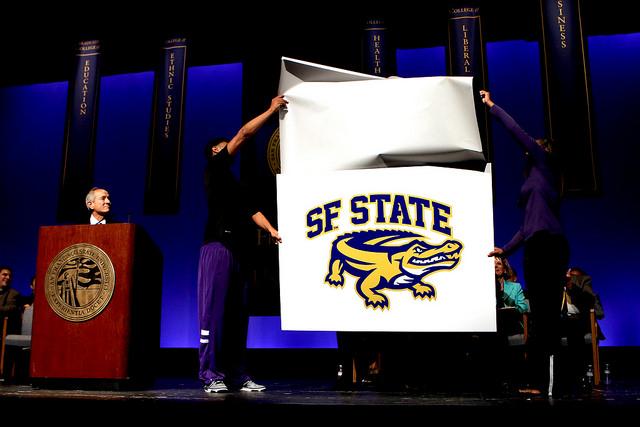 Wong assured that the updated emblem, along with his hiring of a new athletic director, Charles Guthrie, are steps toward a prominent and competitive SF State.
"We're going to control our mascot," Wong said. "In fact, we're going to trademark it. We're going to market it and we're going to use it effectively and intelligently."
The new logo resembles a golden alligator on all fours, a considerable departure from its cartoonish, purple and upright predecessor.
"I think he wanted us to be more mainstream like other schools," said SF State student Andrew Franco. "I don't feel any way, but I think it's unnecessary."
Film major Evan Edward, 26, knew nothing about the change in the logo, but said he welcomed the new design.
"It's more simplistic, and I'm a huge fan of simplicity," Edward said.
Leave a Comment